Agents Are Blocked From Using Discretion in Deportation Arrests
According to the recent information, the order from the Biden administration has blocked the agents from using discretion in deportation arrests.
An executive order from the Biden administration that prioritized the arrest of illegal immigrants who posed a threat to public safety and national security was rescinded on Saturday, potentially putting millions of individuals at risk of deportation.
The prioritizing policy was deemed unlawful by a federal judge in Texas on June 10, and the verdict went into effect late Friday night after a federal appeals court declined to issue a stay. The Department of Homeland Security claimed that the verdict effectively stripped it of the authority to direct immigration enforcement priorities.
Must read-
"While the department strongly disagrees with the Southern District of Texas' court decision to vacate the guidelines, DHS will abide by the court's order as it continues to appeal it," the department said in a statement.
It said Immigration and Customs Enforcement agents would make enforcement decisions on a case-by-case basis "in a professional and responsible manner, informed by their experience as law enforcement officials and in a way that best protects against the greatest threats to the homeland."
As a result of the court's ruling, the government finds itself in an unusual position. Recent governments have established at least some priorities for identifying and removing undocumented immigrants, with a focus on those who have committed crimes or who constitute a threat to public safety. Although the Trump administration greatly expanded the class of immigrants targeted for deportation, there was still some instruction to prioritize criminals, according to legal experts.
Although the Biden administration has pledged to take a measured approach to enforcement even without a prioritization policy, the removal of the guidelines is likely to renew some of the fears that plagued immigrant communities during the Trump presidency, when nearly anyone without legal residence was subject to arrest.
Secretary of Homeland Security Alejandro Mayorkas issued a policy memo to immigration agents last year, instructing them to prioritize apprehending immigrants involved in crimes and security threats while also considering other factors, such as the length of time they have lived in the United States, the age of the individual, and the presence of U.S.-born children in the household.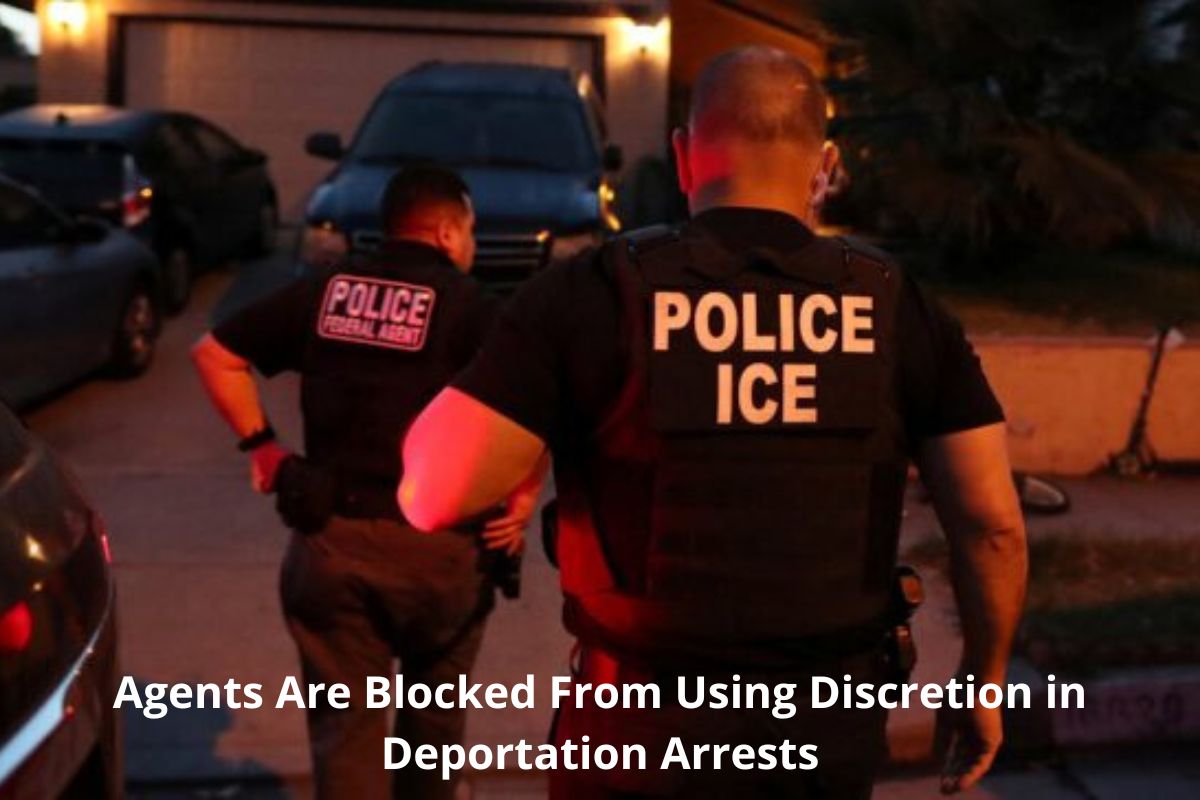 There are an estimated 11 million undocumented immigrants in the United States at this time, making them all potentially subject to arrest and deportation.
"The problem with moving away from priorities is, there is no standardization, no rhyme or reason," said Karen Tumlin, founder of Justice Action Center, an immigrant rights group.
"A person here 20 years who is the parent of U.S.-citizen kids could be put in removal proceedings," Tumlin said. "Someone dropping off their child at school who has never committed a crime could be arrested."
Legal challenges to the Biden administration's immigration policies originated in Republican strongholds like Texas and Louisiana.
The federal court ruling said DHS Secretary Alejandro Mayorkas did not have the authority to issue a 9/2021 memo limiting arresting illegals to those deemed a threat to public safety or national security and migrants who recently crossed a border illegally. https://t.co/7xhHbbzDJH

— Crime in NYC (@CrimeInNYC) June 25, 2022
Many asylum-seekers are required to remain in Mexico while their immigration petitions are examined by U.S. courts, a provision that has been stopped by judges, and the easing of limitations at the border due to the recent pandemic.
Mayorkas told immigration agents to use "discretionary authority" in making arrest and deportation decisions in a policy document issued in September.
In the memo, it is stated that illegal presence "should not alone constitute the basis of an enforcement action." It was made clear that the government would prioritize individuals who posed the greatest risk to public welfare or national security when exercising its enforcement powers.
The memo stated that the federal government's exercise of discretion in immigration matters was a "deep-rooted tradition" that was backed by law and that "the majority of undocumented noncitizens who could be subject to removal have been contributing members of our communities for years."
With the new priorities in place, immigration patrols in the country's heart have shifted their focus. This shift was part of President Joe Biden's overall effort to implement what he has called a "more humanitarian strategy" on immigration than his predecessor, whose government conducted far more immigration arrests.
During the Trump administration, ICE agents frequently conducted warrantless raids of private residences and workplaces to apprehend immigrants who had recently been placed on removal orders, often ensnaring others who were present, including innocent bystanders.
Many immigrants at the time who lacked permanent legal status avoided going out in public with their families.
Judge Drew B. Tipton, a Trump appointee, ruled in the lower court that Mayorkas' decision to adopt priorities was "arbitrary and capricious" and that federal law mandated a series of steps prior to such a policy change, including a public comment period.
Because it "ties the hands" of agents in the field and "alters the standard" for whom they can detain and when he found that the program also violates immigration law.
The court put off issuing his decision so the government might file an urgent appeal. But the stay expired Friday, and the 5th U.S. Circuit Court of Appeals had not yet issued a judgment, leaving Tipton's order to take effect.
American Immigration Council policy attorney Rebekah Wolf expressed concern that the verdict "may force the administration's hand into indiscriminate mass enforcement."
Some who have argued for a stricter stance on immigration have praised the lower court's judgment, saying that the law should be applied consistently.
A key argument was that agents should not be responsible for deciding whether or not an illegal immigrant should be permitted to stay in the nation based on their personal moral convictions. Anyone with a compelling reason against deportation may make the case before an immigration judge, said Andrew Arthur, a resident fellow on law and policy at the Center for Immigration Studies, which promotes curbing all immigration.
I hope you found the information presented above to be of use. You can also look through our entertainment section, where we normally cover all of the most recent TV episodes, web series, anime, and other media. Visit our website if you'd like to learn more about this topic.