Amber Heard Is Afraid of More Lawsuits From Johnny Depp But She Still Loves Him
Nearly two weeks after jurors ruled she defamed him and awarded Depp $10.4 million in damages, actress Amber Heard said Wednesday she is terrified of future litigation from her ex-husband Johnny Depp if she continues to speak out about their relationship but added she still loves him.
According to Heard in an interview with NBC's Savannah Guthrie, "I took for granted what I assumed was my right to speak" following the verdict. Heard also maintained that the Washington Post op-ed at the center of the trial was not about Johnny Depp, despite the outcome of the trial.
The actress said that the op-ed, which didn't mention Depp by name, was about "loaning my voice to a bigger cultural conversation we were having at the time," referring to the #MeToo movement. A team of lawyers reviewed the op-ed drafts to ensure that "it was not about him" or that the article did not "do anything like disparage him," according to Heard.
Also, look at
During the trial, Heard said that she still had "love for Johnny," and when Guthrie questioned if she still stood by that remark, Heard answered, "Absolutely, I love him," and that she bears "no bad feelings or ill will toward him at all."
"I'm scared that no matter what I do, no matter what I say or how I say it, every step that I take will present another opportunity for the sort of silencing, which is what, I guess, a defamation lawsuit is meant to do," Heard said. "It's meant to take your voice."
Asked about her controversial divorce settlement, Heard said she would donate the money to the American Civil Liberties Union and the Children's Hospital of Los Angeles. In the trial, ACLU official Terence Dougherty testified that he suspected billionaire Elon Musk, who briefly dated Heard, made a payment of $500,000 on her behalf, and that she had not paid the $3.5 million she had pledged. It may have harmed her credibility during the trial, but Heard said on Wednesday that she still intends to keep her promise. She agreed with Guthrie.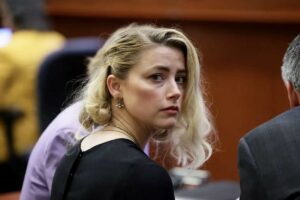 When Depp filed a defamation suit against his ex-wife after the Washington Post published an op-ed in which she claimed he had abused her and sought $50 million in damages, the case went to trial for six weeks. Although punitive penalties were reduced to the maximum amount allowed under Virginia state law, the jury concluded Heard defamed Depp and awarded him $10 million in compensatory damages and $5 million in punitive damages, which were reduced to $350,000 due to Virginia state law.
When Heard won part of a countersuit against Johnny Depp, she received a $2 million payout from the actor. Elaine Bredehoft, Heard's lawyer, said earlier this month that the $10 million verdict is out of Heard's financial reach. Stay tuned with us only on Green Energy Analysis