Clinic at Core of Abortion Case, and the Last One in Mississippi, Closes
Derenda Hancock stood in front of the Jackson Women's Health Organization just before dawn on Wednesday and positioned a hand-scrawled placard on top of a folding chair.
"We Won't Back Down," it said in bold red letters.
Then, she hung another sign on the street corner, reading, "Hell hath no fury as a woman scorned."
Must check-
"This is the hardest day," said the 63-year-old volunteer, lighting a cigarette as a boombox played Tom Petty's "Free Fallin'."
Last Abortion Clinic In Mississippi Shuts Down
This was the final day of operation for the state's last abortion clinic in Mississippi. On the final day, Hancock put her slender arm around a patient before guiding her through the glass door of the clinic where she worked to have an abortion.
The clinic has been the center of the battle over abortion across the country and the last stronghold for reproductive rights in this deeply conservative state for quite some time, earning it the nickname "The Pink House" due to its bubblegum pink exterior walls.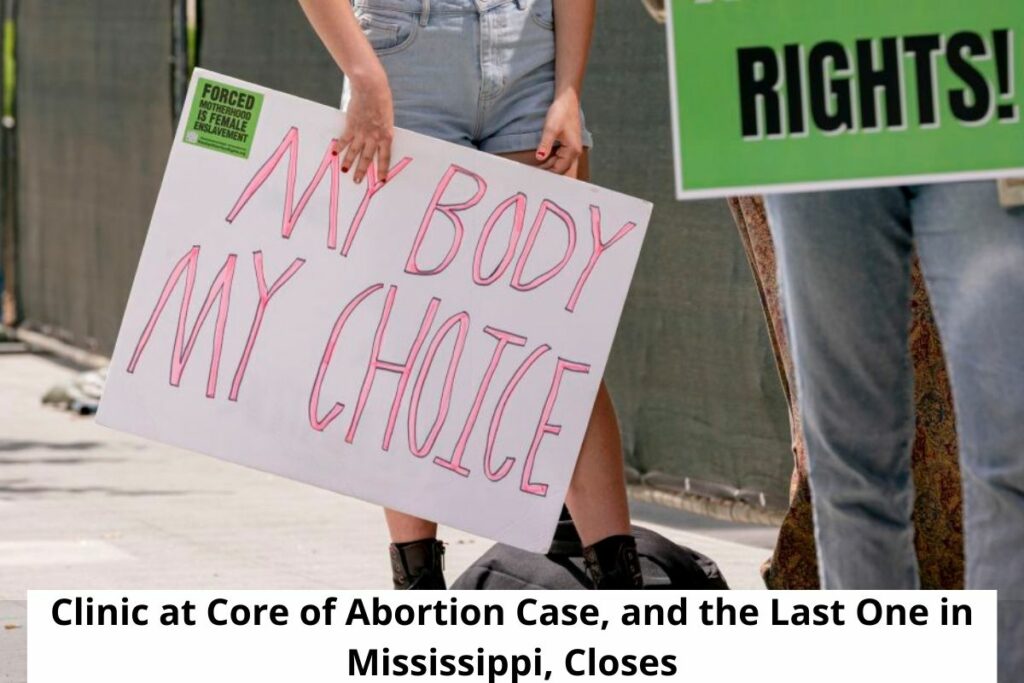 The clinic faithfully served women from all over Mississippi and neighboring states after opening in 1995, a time when antiabortion activists mounted a fierce campaign of intimidation. As of 2004, it has served as the state of Mississippi's lone legal abortion facility.
About four years ago, it sued the state of Mississippi over its new law prohibiting abortions after 15 weeks of pregnancy, claiming that the ban violated the Supreme Court's Roe v. Wade decision from 1973, which established a woman's constitutional right to an abortion.
After those three days, the state's attorney general gave his approval to a so-called trigger law that was passed in 2007 and prohibits all abortions, with the exception of situations involving rape or when the life of a pregnant woman is in danger. For ten days before the law's implementation, the Pink House was able to carry out abortions.
Hancock, who co-founded the Pink House Defenders almost ten years ago, braced herself for the final showdown that would take place between antiabortion activists who were preaching on the sidewalk and the security guards and volunteers who were escorting patients inside while wearing vests with rainbow stripes.
"The war will always go on, but this particular battle is over," she said as she adjusted her straw hat in the sweltering heat. "I can't imagine being 25 or 30 years old in Mississippi today, waking up knowing I have no control over my body."
On Wednesday, Jackson clinic owner Diane Derzis, 68, said, "Is it sad, yes," because patients were constantly calling to schedule appointments. The most tragic part is that women in the South and Mississippi will lose easy access to healthcare.
After 46 years of providing abortion services, Derzis, who now goes by the moniker "Abortion Queen," plans to open a new clinic in New Mexico next week.
Antiabortion activists began setting up folding chairs and erecting signs reading "WE ARE PRAYING FOR YOU" early on Wednesday morning, about an hour after Hancock arrived at the clinic.
"I feel so sick I could throw up," said Doug Lane, a 70-year-old pastor. "It's terrible they're going to kill babies in there today. These babies shouldn't be dying. Roe vs. Wade is overturned."
Erin, a 43-year-old woman who did not want to give her last name, said she and her sister both had abortions at the clinic because their pregnancies were extremely risky. She reported being treated with respect and kindness by the clinic staff.
"A lot of women are going to die," she said. "I want to show the workers leaving here how loved they are. How much they mattered to every one of us."
I hope you found the information presented above to be of use. You can also look through our news section, where we normally cover all of the most recent news and happenings around the world. Visit our website if you'd like to learn more about this topic.