Court Kills Flint Water Charges Against Ex-Governor, Others
On Tuesday, the Supreme Court of Michigan dismissed all charges brought against ex-governor Rick Snyder and others in connection with the Flint water crisis, ruling that a judge acting as a one-person grand jury lacked the authority to issue indictments under obscure state statutes.
It's a stunning loss for Attorney General Dana Nessel, who took office in 2019, fired a special prosecutor, and assembled a new team to look into potential criminal activity related to the 2014 and 2015 lead contamination of Flint's water supply.
Must read-
According to the Supreme Court, state laws "authorize a judge to investigate, subpoena witnesses, and issue arrest warrants" in the same capacity as a grand jury.
Court of Michigan Kills Flint Water Charges Against Ex-Governor and Others
By a vote of 6-0, the court said that "they do not authorize the judge to issue indictments." This opinion was written by Chief Justice Bridget McCormack.
A "Star Chamber comeback," she said, mockingly referring to an oppressive, behind-closed-doors style of English justice from the 17th century.
Attorneys for former health director Nick Lyon filed the challenge, but it affects Snyder and the other defendants as well. Requests to dismiss the cases have been filed and will be heard in Genesee County Court.
"This wasn't even a close case — it was six-zip. … They couldn't do what they tried to do," said Lyon attorney Chip Chamberlain.
An "unequivocal and scathing" opinion is how Snyder's legal team described the court's ruling.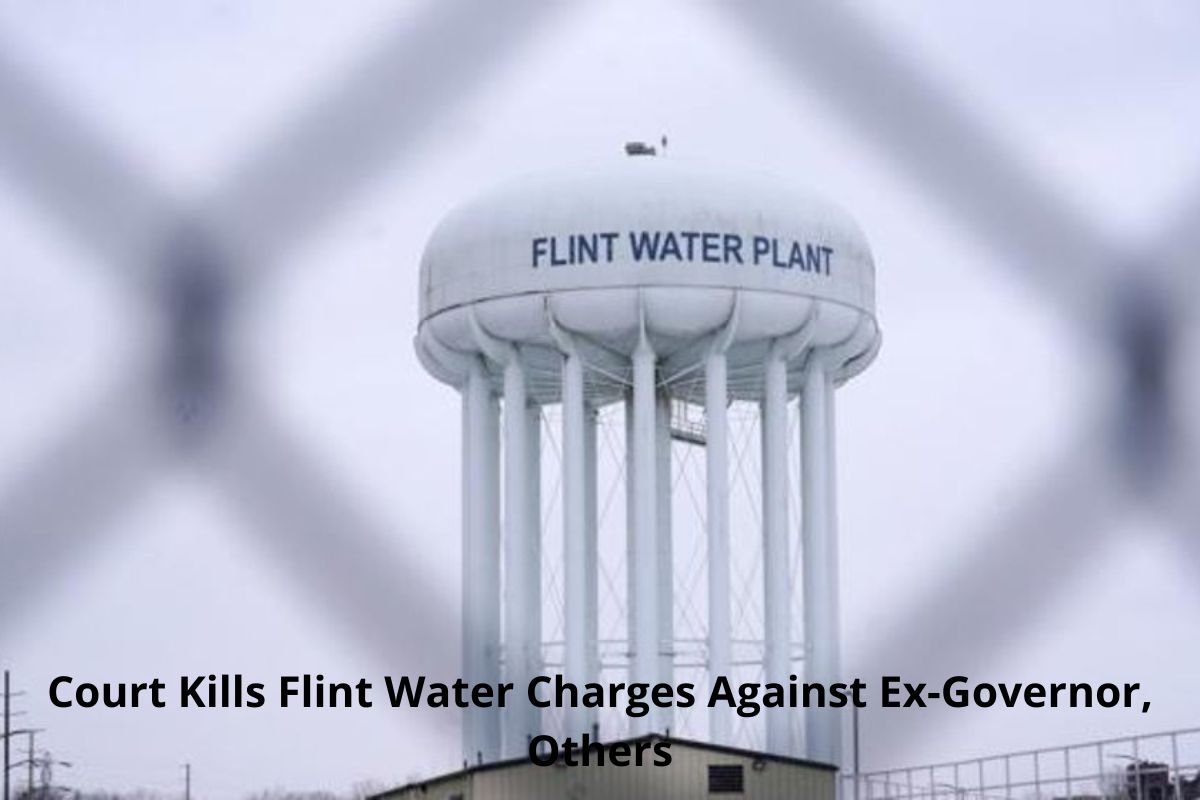 "These prosecutions of Governor Snyder and the other defendants were never about seeking justice for the citizens of Flint," Snyder's lawyers said. "Rather, Attorney General Nessel and her political appointee Solicitor General Fadwa Hammoud staged a self-interested, vindictive, wasteful and politically motivated prosecution."
Hammoud, on the other hand, issued a statement in which he insisted that the cases were far from over.
Among the worst government betrayals of its people, she said, "The Flint water crisis stands as one of the greatest."
In an effort to save money while a new pipeline to Lake Huron was being built, city managers in Flint who had been appointed by Snyder dropped out of a regional water system and started using the Flint River. In spite of the river water's corrosive nature, state regulators insisted they didn't need to treat it. However, that was a disastrous choice, as lead leaked from old pipes for 18 months in a city where Black people made up the majority of the population.
The Michigan Civil Rights Commission blamed systemic racism, saying that the water switch and the disregard for complaints were unlikely to happen in a white, affluent community.
Please keep in mind it costs more to ship a case of water than the actual cost of the case. Consider a monetary donation. #FlintWaterCrisis

— Flint Water Crisis (@helpflint) January 27, 2017
The Republican governor of Michigan, Rick Snyder, has admitted for a long time that his administration messed up in Flint. He has said that the crisis began with a "breakdown in state government."
Once he left office in 2021, he was charged with two counts of willful neglect of duty, a misdemeanor. It has been speculated that a lack of chlorine in the water supply in Flint contributed to nine deaths from Legionnaires' disease. Both Lyon and Dr. Eden Wells, the former chief medical executive of Michigan, have been charged with involuntary manslaughter.
In Michigan, charges are typically filed by prosecutors after an initial investigation by law enforcement. Witnesses, especially those who are victims of violent crimes, can testify in private when a one-judge grand jury is used.
It has been suggested that former state health director Lyon was responsible for some of the deaths from Legionnaires' disease because he did not issue timely warnings about the outbreak. Yet, according to his attorneys, he has already instructed specialists to look into the illnesses and alert local health officials in the Flint area. He played no part in the decision to change Flint's water supply.
Lyon said after the court's decision, "State employees should not be prosecuted or demonized for just doing their job." The residents were dissatisfied.
"So everyone who was involved in this manmade disaster by the government is walking away scot-free?" said Leon El-Alamin, a community activist. "We lock people up every day for petty crimes. Something like this has killed people. People died from the Flint water crisis."
I hope you found the information presented above to be of use. You can also look through our news section, where we normally cover all of the most recent news and happenings around the world. Visit our website if you'd like to learn more about this topic.