Did Disney Lorcana Release Date Confirm for Enjoying Magical Card Game?
It's hard for a new playing card game to get noticed in a field where Magic: The Gathering, Pokemon, and Yu-Gi-Oh! are so popular, but Disney Lorcana has a good chance of doing it.
As a "less competitive" take on card games, Lorcana mixes the ripping of booster packs and building of decks found in other games of its kind with a colorful cast of new and old Disney characters. Lorcana is still a long way off, but it's about to make a big difference in card games, and there are many reasons to be excited. What we know about Disney Lorcana is listed below.
What is Disney Lorcana Release Date?
The Disney Lorcana series will be distributed in "chapters." Disney Lorcana: The First Chapter will premiere in the United States on August 18, 2023. The retail release date for the general public is set for September 1. Disney Lorcana can be bought in the United States, Canada, France, Germany, and the United Kingdom.
The international release date is confirmed to coincide with the August release in the United States, at least in terms of Germany. Select Disney Lorcana goods will supposedly be available at Gen Con 2023, just ahead of the official release date. From August 3rd until the 6th, this will be going down.
You may also confirm the release date of Disney Lorcana by looking at the post that was made on Twitter, which is mentioned below:
Looks like 🎯 Target will get Disney Lorcana 1st chapter booster packs! $5.99 per

Expected release date 8/18/2023

Will you be buying any? #DisneyLorcana #tradingcards pic.twitter.com/cyLRUOIA7i

— Ricanking (Restock Tracker) (@ricanking6) March 21, 2023
Conflicting reports have dominated recent coverage of Disney Lorcana. Upper Deck, a manufacturer of trading cards, is suing Ravensburger, claiming that the latter "stole" an unreleased game. Because of its complexity, a games attorney has provided the following summary of the Disney Lorcana complaint. Launch of Disney's Lorcana – Ravensburger logo.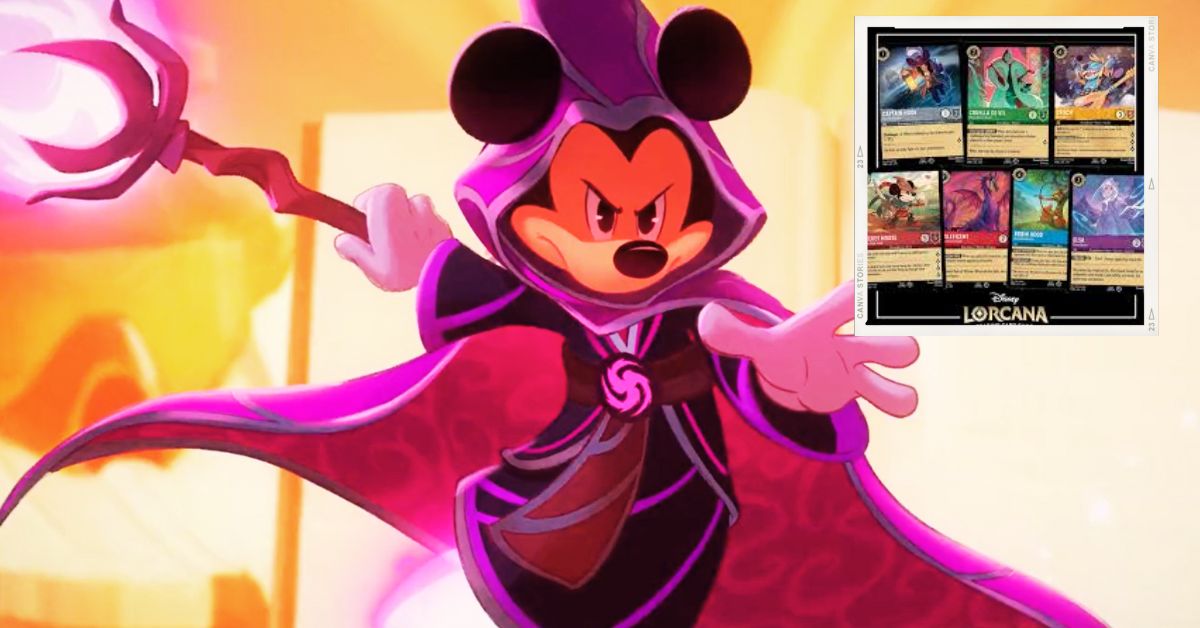 What is Disney Lorcana?
Disney and tabletop games producer Ravensburger have collaborated on a trading card game called Disney Lorcana. You'll be able to build decks out of booster packs of cards, just like in Magic: The Gathering and the Pokemon Trading Card Game.
Ravensburger, who collaborated with Disney on the Villainous board game series, is responsible for creating and publishing the game. This will be its first trading card game, however, it is well-known for other board games like Dingbats, Escape, Labyrinth, and El Dorado.
The world of Disney Lorcana is called Lorcana. In this game, you take on the role of an Illumineer who discovers a massive machine in the Great Illuminary.
Glimmers are recreations of characters, artifacts, and planets from around the Disney universe, made by combining lore pieces from Disney stories with the pages of a magical lore book. It is up to you, armed with a wand-like instrument called an Inkcaster, to safeguard the land of Lorcana and track down any lost lore.
Find out how much fun the future will be! You can find out when new shows, series, and games are coming out by clicking on the links below:
What are Disney Lorcana Cards?
Every day, new Disney Lorcana cards are unveiled. To date, we've seen Disney characters from all around the multiverse represented in trading card game (TCG) form.
When it comes to bad guys, we have Maleficent, the Monstrous Dragon first. She's a gigantic baddie who can 'banish' another character with her mighty roar. There's also Captain Hook, a ferocious duelist, and Cruella de Vil, miserable as usual.
Our cast of good guys includes such icons as Rock Star Stitch, Snow Queen Elsa, Brave Little Tailor Mickey Mouse, and Unbeatable Archer Robin Hood.
What Are Inks?
Each of Lorcana's playing cards is assigned to one of six distinct Ink colors. Each ink has its own unique play style, much to the many colors in Magic: The Gathering or the different types in Pokemon.
The inks used are:
Amber (yellow) – Amber seems to blend defensive features like mending damage with effects that are sensitive to having numerous glimmers in play at once.
Steel (grey) — The focus of this ink is "brute force," with an accent on character attacks and effects associated with conflict and confrontation.
Red Ruby is a feisty and quick attacker that prioritizes providing direct damage.
Sapphire (blue) — Values playing Item cards, with several synergies arising from doing so frequently.
Emerald (green) focuses on rearranging the board by transferring cards from one zone to another and avoiding conflict.
Amethyst (purple) – Uses your characters' actions and talents to dictate the pace of the game.
You can follow us on Twitter if you want to be up to date on the latest happenings in the film, television, and gaming industries: