Don't Look Up Is Confirmed To Release In Dec 2021
For those who are fans of sci-fi and eagerly waiting for the movie, there is good news that finally we got the release date of Don't Look Up. The premiere date of  Don't Look Up was shared in August 2021. According to the official information, we can enjoy this piece of black comedy this December. 
Netflix geared up to bring strong note originals which will drop in the festive month of December. And the center of attraction is Adam McKay's Don't Look Up. We know that this would be on the top of the must-watch upcoming films of the year. The reason behind is pretty obvious that the storyline of the movie and the star-studded cast, that will attract many viewers. Starring some big names and phenomenal stars like Leonardo DiCaprio and Jennifer Lawrence, Don't Look Up will serve the story of two lower-grade astronomers who warn the world about a dangerous situation approaching the earth, a big asteroid hit that could destroy the human race.
It is pretty expected, this upcoming movie will be one of the biggest Netflix releases of 2021. As of now, much information about "Don't Look Up" has not been released yet, but still, fans are super excited as the promo sounds pretty compelling…Let us know more about this sci-fi fiction here's everything you need to know about the story.
Don't Look Up Release Date
Netflix recently announced the release date of the movie after a long wait. In February 2020, it was announced that Netflix had planned to release the film in 2020 only. But the movie faced setbacks because of the pandemic.
After a long wait, the fans got the release date. Don't Look Up will be released on December 10, with a limited theatrical release. Then it will be dropped on Netflix this December 24. The idea behind the gaps is pretty sensible that the makers do not want to affect the profit graphs. As it is observed that releases of movies simultaneously in cinemas and on streaming platforms affect the box office numbers. This spaced-out release will surely provide a good time to enjoy the movie on big screens till it gets to online platforms. We know that Netflix always plans to bring big shows and movies in December before Christmas. This movie is supposed to be an awards-season contender. 
So mark the dates… either December 10, 2021, for theatrical release or December 24 for Netflix watching. But the fans out there will surely gonna enjoy this piece of black comedy. 
Don't Look Up Cast
We know that the movie includes some big names that will bind the viewers to give it a watch. The list of the cast was officially shared which goes like this-
Leonardo DiCaprio as Dr. Randall Mindy who will play the role of an astronomer

Jennifer Lawrence as Dr. Kate Dibiasky, another key role as an astronomer

Rob Morgan as Dr. Clayton Teddy Oglethorpe, who will play the role of a scientist who helps Dibiasky and Mindy on their task.

Jonah Hill as Jason Orlean, President Orlean's son and Chief of Staff.

Michael Chiklis as Dan Pawketty, a conservative talking head.

Paul Guilfoyle as General Themes, Chairman of the Joint Chiefs of Staff

Mark Rylance as Peter Cherwell

Tyler Perry as Jack Bremmer

Ron Perlman as Colonel Ben Drask

Timothée Chalamet as Quentin

Ariana Grande as Riley Bina

Scott Mescudi as DJ Chello

Cate Blanchett as Brie Evantee

Meryl Streep as President Janie Orlean

Himesh Patel as Phillip

Matthew Perry

Chris Evans

Tomer Sisley as Adul Grelio

Melanie Lynskey as June

Gina Gershon
Although the list is confirmed, we may have some more names as well for short roles. Let us wait for the final watch to clear all the doubts. But we will certainly get a good piece from Adam.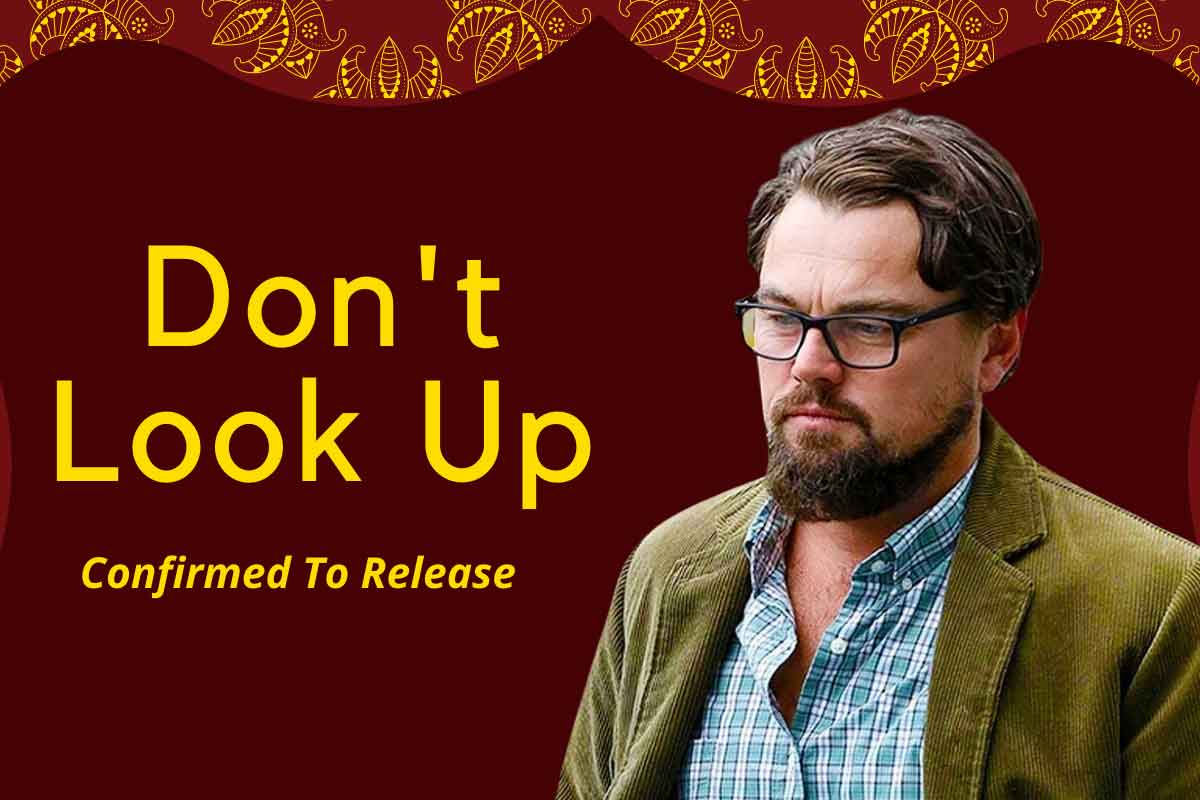 Don't Look Up Plot
The story of the movie revolves around two low-level astronomers. These astronomers are up to a big task to save the planet. Leonardo DiCaprio as Dr. Randall Mindy and Jennifer Lawrence as Dr. Kate Dibiasky are on the giant media tour to warn mankind. As the huge comet is supposed to hit the surface of the planet earth. This will surely serve funny moments between DiCaprio and Lawrence. Will they both save the human race? How will they manage this situation? All these questions will be answered in the final drop. Let us wait to explore the ride of black comedy sci-fi fiction. 
Don't Look Up Trailer
The official teaser was released on 1 Aug, a 27-second teaser was dropped of Don't Look Up. In the teaser, we met DiCaprio who had a panic attack in a bathroom. Dr. Mindy and Kate were discussing the upcoming crisis. The teaser gives us a good idea of what is coming that excites us to watch the movie.
Final Words
After a long wait, the movie is coming this December. Save the dates to enjoy the premiere. There is no doubt, it will bring something new and light entertainment for the audience. Are you excited? So do I… For the final touch, we have to wait for a while which will be worth it. 
Must Check