Doodle for Google: What is on the plate now?
Doodle for Google is an international competition organized every year by Google to celebrate the great artworks of young artists.
The competition is held annually, and the students from kindergarten to high school are invited to participate. The winners are given multiple cash prizes and Google hardware. The best artworks that do not win any prize are featured in an online art gallery on the website of Doodle for Google.
Why Google Doodles? History of Doodle for Google
The purpose behind Google Doodles is to celebrate famous people or special days. Since 2008 Google has been organizing an initiative called Doodle for Google, an online competition where school students can actively participate and win cash prizes and scholarships up to $30,000. The best artwork is also featured on the Google homepage.
Doodle for Google is an annual event in which artists are given a specific theme, and students can participate globally.
Doodle for Google 2021
Like every year this year also Doodle for Google was organized with great zest and zeal. The year 2021 was the thirteenth continuous year for the competition to be held. This year the theme was "I'm strong because….". The artists around the globe were invited to make Doodles that describe their inner strength.
Most of us know certain artists who cannot verbally describe their feelings, so the Doodle for Google initiative is for all those artists who cannot describe what they feel but can draw them on paper.
"Art should be something you can actually feel."
Doodle for Google is also for all those parents who want to celebrate the inner artist of their child. Parents and teachers who want their kids to participate can make the entries on the website of Doodle for Google.
This year the participants were allowed to send the entries until March 5th, 8:00 p.m. Pacific Time(PT).
Teah Cabral, the 17 years old junior at Harvest Christian Academy, won the 2021 Doodle for Google contest. Her creativity and imagination were worth applauds. When she was asked to describe her strength using a doodle, she drew her mother and family restaurant.
Her mother's face and the family restaurant's symbols were used to symbolizing the letters in the word Google. Her hard work was so appreciated that it became the Doodle for Google 2021 winning image.
Doodle for google winners and prizes
When we know the competition is international, how can one winner be chosen among a million participants? So giving everyone a fair chance, Google divides the student groups among the five subgroups.
       

Grade K-3

       

Grade 4-5

       

Grade 6-7

       

Grade 8-9 and,

       

Grade 10-12
The finalist is then judged on a state-by-state basis. There are more than 54 finalists from all 54 states and territories. The artworks by these 54 finalists are put on the online gallery. Then from these 54 finalists, five finalists are selected from the five class groups. These five receive a cash price of $5,000 and a Google hardware.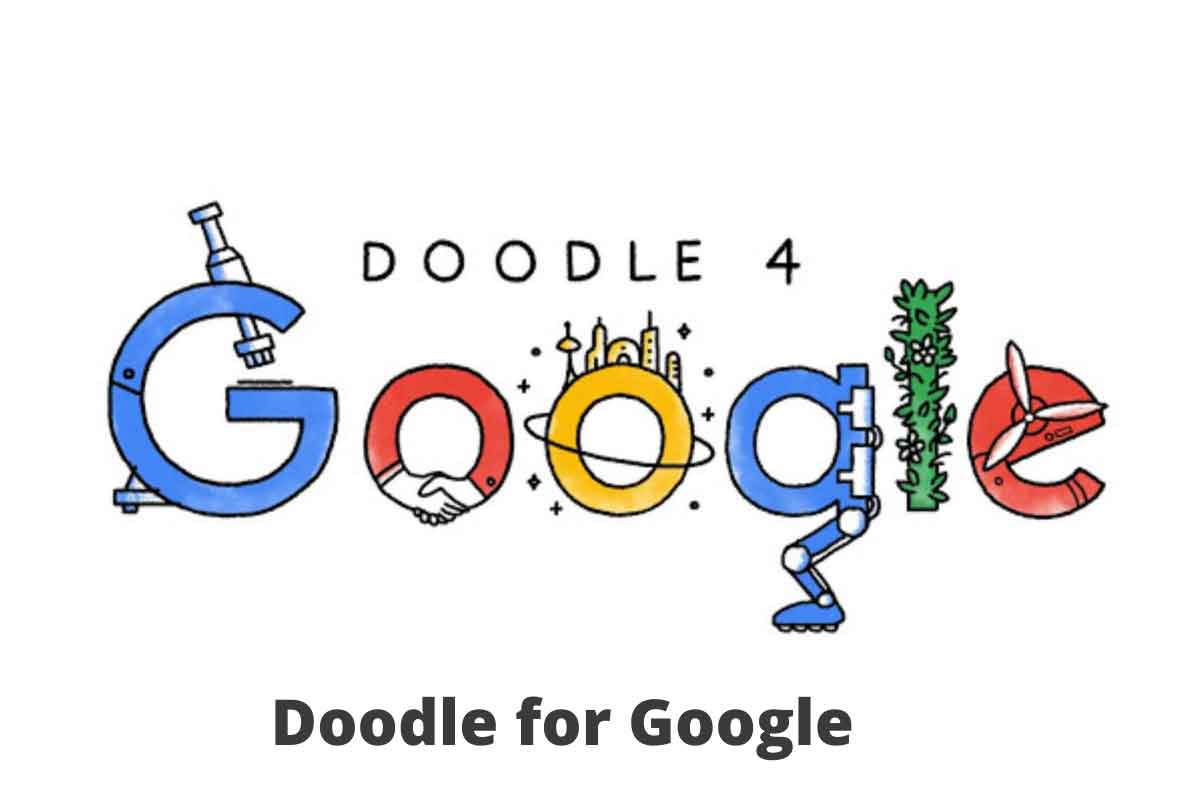 The national winner is decided from these five finalists. A panel of Google executives selects the national winner.  He/She receives a $30,000 scholarship, and a technology package was $50,000.
I'm Strong Because…
The things inside our brain: "Either we're googling it or we're doodling it."
From the bag of creative and unique themes Doodle for Google, this year brought for us the theme "I'm strong because…" The theme was so appropriate as every one of us is in the middle of a pandemic and needs motivation, and if any artwork can do that, why not a Google Doodle.
Be as little as you are, but your artwork can be big. Your artwork can influence people to share your story; why are you strong and how are you strong. You can use the Doodle for Google platform to share your student experiences.
The website of Doodle for Google itself is full of motivation and a few inspirational ideas. Let the creativity flow through your veins and go directly to your brain.
Must Check: Serious Warning Issued For Millions Of Apple iPhone Users
FAQs
Is there a limit of Doodles that a school or a student can enter?
No, there is no limit.
What if a student does multiple entries?
Only one entry per student is accepted. If he/she does more than one entry the system will consider the one submitted first.
Are group entries allowed?
No, one entry per student is allowed.