Fortnite Venom Bundle – Venom Cup Scoring System, How To Get Venom Skin & More
The Fortnite season 5 is around the corner as everyone is following the hype that already created a lot of buzzes. Recently a few details of the Fortnite Venom Bundle were used to tease fans on Twitter. And according to the leaks, we can assume that Venom will be the next Marvel hero, which developers going to feature in the Marvel Knock Out Super Series Tournament.
The top fans of Fortnite already know of Venom's SmashGrab from the Marvel LTM. Thus, we can say that only his skin is coming to the game as well via a new Fornite Venom bundle. The Players will be able to unlock the character skin only through the Item Shop or Marvel Knockout Super Series.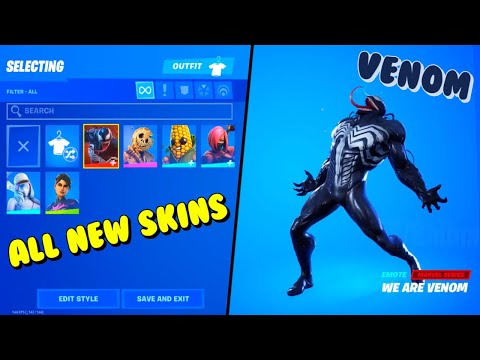 What is Marvel Knockout Super Series?
The Marvel Knockout Super Series is a weekly competition that uses Marvel's Knockout format. The winner of each stage match will qualify for the final event with a chance to get real money for their placements.
In the first stage, the players only get skins as a reward. However, it is enough encouragement for some players to participate in the tournament. A few days ago, epic games released a teaser for their next tournament: The Venom Cup, as you can check the tweet below.
💪🕷️ pic.twitter.com/jTtxcbobIB

— Fortnite (@FortniteGame) November 16, 2020
Currently, we don't have any information regarding the official release date of Fortnite Venom Bundle as per the past releases we can sense that the Venom Cup will be officially released on Wednesday, November 18.
Fortnite Venom Bundle: How to Earn it for Free?
Owing to the competition level in your region, it will be a tough task for you to win. Because only 800 players in Europe will earn the skin for free and only 700 players in North America can unlock it. Hence, you'll need to get a high enough rank within your region to earn the Venom skin.
You only need to wait until it hit the shop. Nevertheless, if you are willing to get it for free, then you should get ready to grind some games. In the Marvel Knockout Super Tournament Series, the games are strictly categorised on placement points.
Below you can see a breakdown of the scoring system and placement threshold for each region of the Venom Cup.
Fortnite Venom Cup: Score System
1st: 100 points.
2nd: 50 points.
3rd-4th: 25 points.
5th-8th: 15 points.
9th-16th: 5 points.
Fortnite Venom Cup: Placements to Win Skin
Europe: 1st – 800th.
NA-East: 1st – 500th.
NA-West: 1st – 200th.
Brazil: 1st – 200th.
Asia: 1st – 100th.
Oceana: 1st – 100th.
Middle East: 1st – 100th.
Right now, we don't know what other items will be included in the Fortnite Venom Bundle. Although, the players are expecting some new items such as pickaxe that morphs into Venom's arm. Let's hold our horses and wait for the next week to check what we are getting in this update.