Georgia Grand Jury Investigating Trump Wants Testimony From Giuliani, Graham and Others
The Georgia prosecutor looking into former president Donald Trump's efforts to overturn the state's 2020 election results is attempting to subpoena several Trump allies, including Rudy Giuliani and Sen. Lindsey Graham, to testify before the special grand jury.
To get Giuliani, Graham, and others to come to Georgia for questioning, Fulton County DA Fani Willis asked the presiding judge to issue certificates stating that they are material witnesses in the investigation.
Must read-
Trump's lawyers Cleta Mitchell, Kenneth Chesebro, Jenna Ellis, conservative attorney John Eastman, and pundit Jacki Deason were all named as potential material witnesses. The initiative to force the witnesses to testify was first reported by the Atlanta Journal-Constitution. According to their certifications, the witnesses could be called to the stand as early as July 12.
Georgia Grand Jury Investigating Trump
Giuliani's lawyer claimed that their client had "not been served with a subpoena." A spokesman for Graham did not immediately respond on Tuesday to a request for comment.
Giuliani's appearance before the Georgia state senate in December 2020 was noted on the certificate naming him as a material witness. According to the certificate, while representing Trump personally, Giuliani made claims of voter fraud that were quickly disproven, yet he continued to repeat them publicly.
"There is evidence that the Witness's appearance and testimony at the hearing was part of a multi-state, coordinated plan by the Trump Campaign to influence the results of the November 2020 election in Georgia and elsewhere," the certificate said.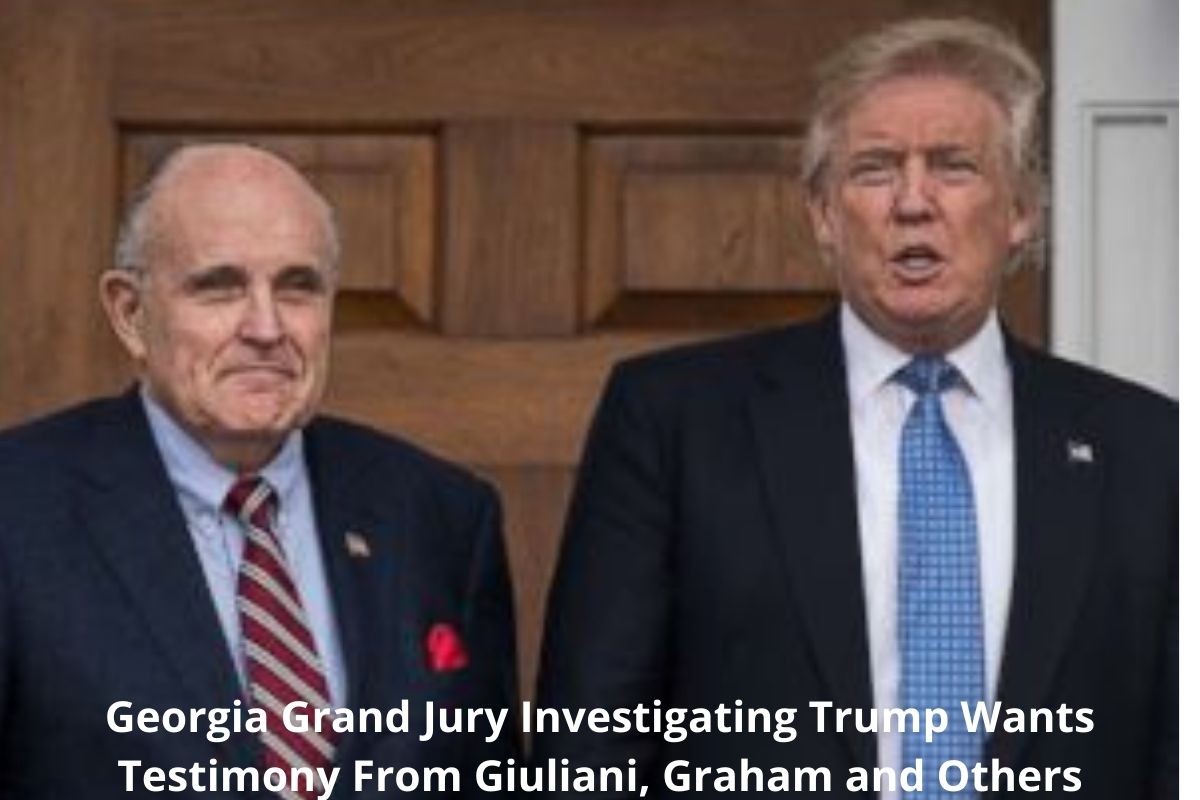 According to the document containing his testimony, Graham contacted Georgia Secretary of State Brad Raffensperger shortly after the election. According to the certificate, Graham "questioned Secretary Raffensperger and his staff about reexamining certain absentee ballots cast in Georgia to explore the possibility of a more favorable outcome" for Trump.
In January, on "Face the Nation," Graham admitted making the calls and denied any wrongdoing, saying he "asked about how the system worked when it came to mail-in voting, balloting."
Georgia was won by President Biden by a razor-thin margin in 2020, and Republican election officials there have testified time and time again that claims of widespread voter fraud are without merit.
BREAKING: In a HUGE loss for Trump, the Fulton County special grand jury investigating the MAGA team's criminal interference in Georgia's 2020 election subpoenas Rudy Giuliani, Lindsey Graham, and John Eastman. RT IF YOU HOPE THEY END UP IN PRISON!

— Occupy Democrats (@OccupyDemocrats) July 5, 2022
According to a transcript of a phone call between Trump and Raffensperger, Trump pressed Raffensperger and other officials to "find" enough votes so he would win. On the call with Raffensperger on January 2, 2021, the President said, "All I want to do is this. I just want to find 11,780 votes, which is one more than we have. Because we won the state."
At the district attorney's request in January, a special grand jury was convened. The call between Raffensperger and Trump is part of the investigation, and in June, the secretary of state was summoned to testify before the grand jury. On July 25, Georgia Governor Brian Kemp will also provide a recorded, sworn statement to the grand jury.
I hope you found the information presented above to be of use. You can also look through our news section, where we normally cover all of the most recent news and happenings around the world. Visit our website if you'd like to learn more about this topic.