Google Search Bug Sees Missing Images In "Top Stories," A Fix Is Coming Soon
Many internet users spotted an issue when browsing Google. They could see that the carousel that displayed the latest and hottest stories had broken and blank images. While this problem was encountered on mobile browsers as well, it was more profound on desktop browsers. Google later stated that this was a Google search that caused users to see missing images in "Top Stories" and reassured them that a fix is coming soon. 
What are the "Top Stories" exactly?
In this day and age, Google has become one of the handiest tools available for news and information. The answers to anything can be found after a simple Google search. The "Top Stories" carousel is one of the features implemented by Google to help you access relevant news and "Stories" about your searched topic. This feature provides you with a carousel of the most relevant web pages that contain the latest updated news on the topic you are searching results for. Usually, this section has various headlines that are trending at the moment of searching results. It is no wonder why many people were scratching their heads and confused when they saw the blurred, broken, or missing images on the previews of these web pages, as it is a feature that is beloved by most. 
A Google search bug causes issues in viewing images
Google advised that the search bug was the reason behind there being an issue in viewing the images and the reason why there were missing images in the "Top Stories" carousel. According to their reports, a bug that was in the search results filter had an issue in rendering these images. It resulted in stories either having a solid color or broken image in place of the image relevant to the story itself. The bug had majorly affected news stories from being viewed correctly. Most news reports were affected due to the missing thumbnail images as users were uncertain where the problem was. Some assumed publishers of news had a problem, while others were concerned it was an issue existing on their device.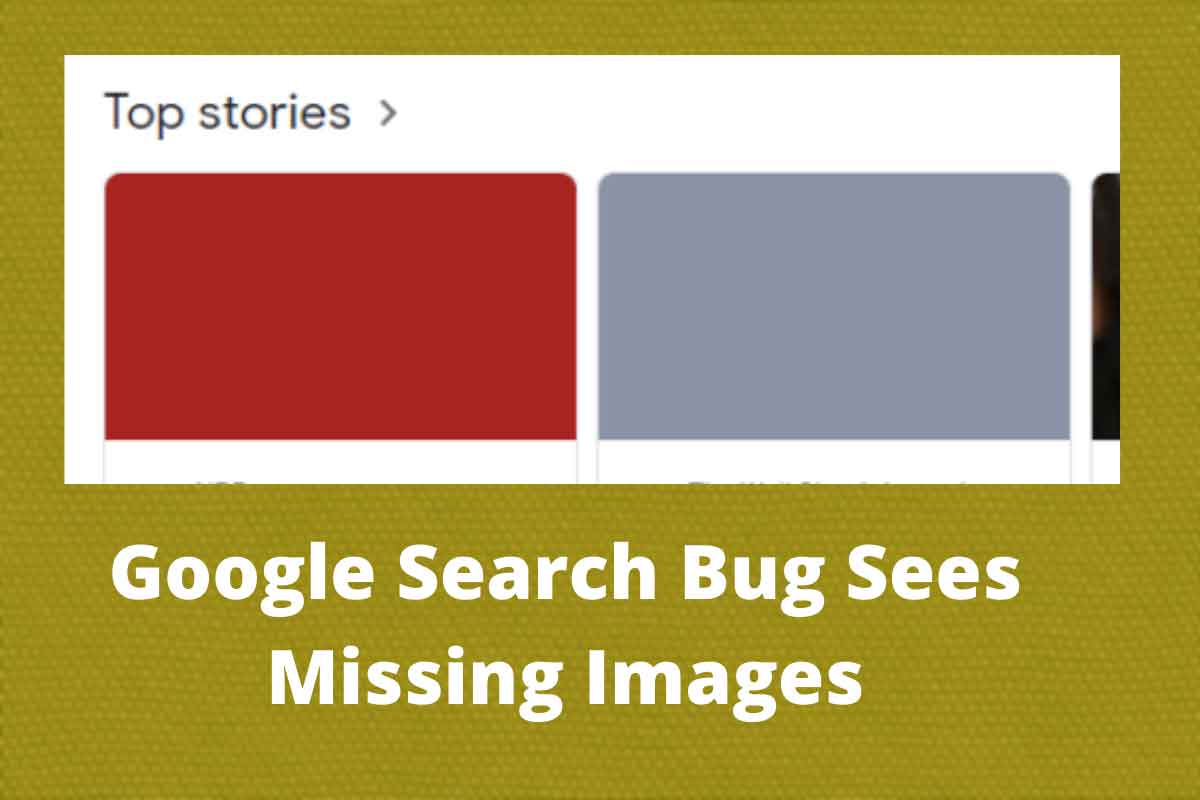 Users react in surprise and confusion
Users and SEOs were alarmed and confused when they saw that many stories had such blurred out and broken preview images. They were surprised by this bizarre effect on the news stories that they regularly read from the "Top Stories" Carousel. Some were even worried whether the problem was on their end. One user reacted on Twitter by asking others if they were facing this strange issue of missing images on Google's SERP features. 
Origins of the Google search bug
It remains somewhat vaguely unclear exactly when this search bug that was causing images to mysteriously disappear originated. Some users have screenshots from August 18th as the earliest time at which they began to witness these issues. It is also unknown what had triggered the bug. Some think that the glitch might have been due to certain keywords, while others believe it to be something entirely different. We will have to wait for further information from Google to get a picture of what went wrong. 
A fix coming soon
Google has since then acknowledged that it was a search bug that caused these glitched images in the "Top Stories" and stated that a fix is coming soon. Even Danny Sullivan, Google's own Search Liasion, has confirmed the existence of the bug and wished to inform that no user or publisher should have to worry about it. Right now, a team is looking into the bug and trying to fix it at the earliest. However, there is no tentative time by which the issue will be fixed and resolved. It most likely should be resolved in a few hours, but it could take a maximum of upto a couple of days as well. Search bugs aren't always the easiest to find and fix, especially on such a large platform as Google.
We advise you to remain patient until the issue gets resolved and reassure you that there is no reason to panic if you see some missing images in the "Top Stories" Carousel while surfing the internet. You can expect an update on this page as soon as the bug gets fixed by Google. 
Must Check
Trump-appointed Supreme court's judge rejects bid to put a hold on Obama's library construction
Roswell New Mexico Season 3 on Netflix: Release Dates and more details on the matter