IRS Stimulus Check Portal: Fall Tax Deadline In Just Hours – While 9 Million Americans Still Owed Up To $3,600 From $3.7 Billion Pot
More than 143 million tax returns have been processed by the IRS so far this year. Meanwhile, today is the tax deadline for those who have not yet received direct payments.
Tax deadline
The standard deadline for filing tax returns was April 18th, unless an extension was requested. If this is you, the deadline to file your taxes without a penalty is today. About 19 million taxpayers filed an extension with the IRS this year, according to their data. A failure to file by the deadline could result in a tax liability of several thousand dollars. You are exempt from today's deadline if you have no tax debt to settle.
Direct payments
You have three years from the time the refund or direct payments were due to be requested. If not, the Treasury can claim the funds as its own. If this describes you, then you need to submit your tax return without delay.
Multiple stimulus checks totaling up to $1,400 were issued during the height of the pandemic, in addition to the maximum Child Tax Credit of $3,600 for a single year. Meanwhile, there's yet another way to get your hands on cash without paying taxes on it.
It is not mandatory to file a tax return in the United States if your annual income is less than $12,500 (single) or $25,000 (joint). Elderly individuals who receive only Social Security benefits are also exempt from filing. However, they can use a free resource available at GetCTC.org.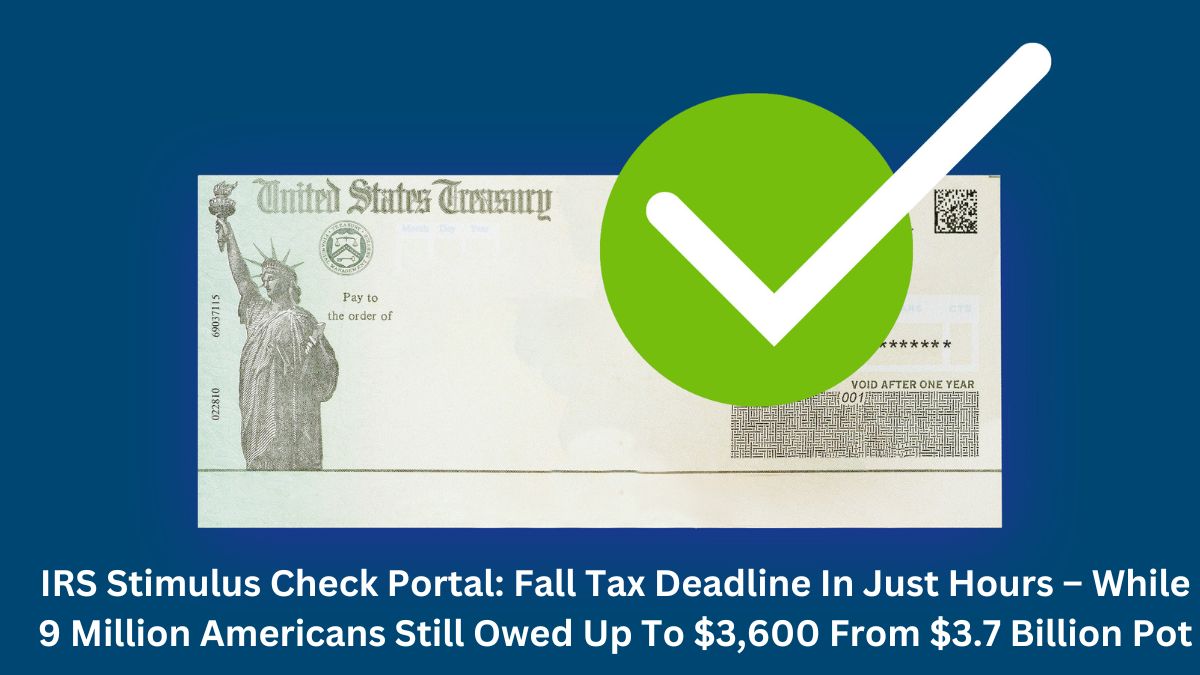 You can use the tool to apply for the Earned Income Tax Credit, the third federal stimulus check, and the maximum CTC of $3,600. The website does not require any form of payment or tax information to be submitted.
However, all eligible Americans must use the tool by November 15th. Because as of that date onward, access to the GetCTC portal will be denied.
How Many Payments Are Due?
According to a report by the Government Accountability Office, between April 2020 and March 2021, 165 million Americans received a total of $931 billion in payments under three rounds of stimulus funding. The agency estimates that between 9 and 10 million people in the United States are still waiting for their stimulus payments.
Rushing to meet the Oct. 17 #IRS tax filing extension deadline? Carefully check your return and file electronically to reduce potential errors. https://t.co/Fmw2PHPhTf #IRSTaxTip pic.twitter.com/dA6x5NgtbJ

— IRS Small Biz (@IRSsmallbiz) October 13, 2022
An official statement reads, "Throughout the pandemic, IRS and Treasury struggled to get COVID-relief payments into the hands of some people—especially those with lower incomes, limited internet access, or experiencing homelessness." The IRS also missed sending the advance CTC to 4,1 million households, according to a report from the Treasury Inspector General for Tax Administration. They are worth a total of $3.7 billion.
I hope you found the information presented above to be of use. You can also look through our news section, where we normally cover all of the most recent news and happenings around the world. Visit our website if you'd like to learn more about this topic.