Justice Stephen Breyer to Retire From Supreme Court on Thursday
Supreme Court Justice Stephen Breyer, who is the most senior member of the liberal wing of the U.S. Supreme Court, said he will officially step down at noon on Thursday. The court said he will then swear in his former law clerk, Ketanji Brown Jackson, who will become the first Black female justice in the country.
In a letter to President Joe Biden on Wednesday, Breyer said, "It has been my great honor to work as a judge to protect our Constitution and the Rule of Law."
Have a peek at-
Justice Stephen Breyer To Retire From Supreme Court
Breyer's retirement makes it possible for Biden's first nominee to the court. This was a goal of Democrats who pushed for him to leave.
Jackson will take both oaths at noon. The Constitutional Oath will be given by Chief Justice John Roberts, and the Judicial Oath will be given by Justice Breyer. When she joins, she will be the first woman to be on the Supreme Court at the same time as three other women.
Progressive activists had put more public pressure than ever before on Breyer, who was appointed by President Bill Clinton in 1994, to step down. Breyer was first put on the federal bench by President Jimmy Carter in 1980. He was an appellate judge for 13 years until President Clinton put him on the Supreme Court to replace Justice Harry Blackmun in 1994. The Senate voted 87-9 to confirm him.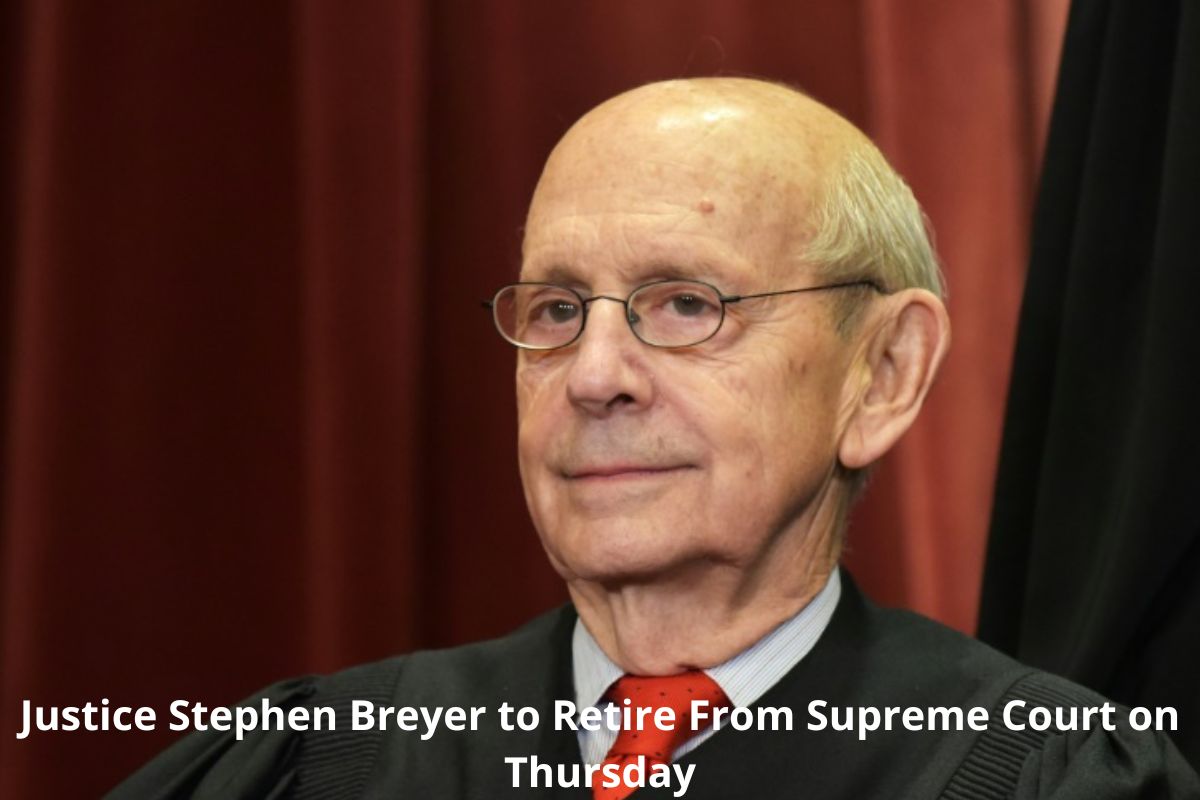 In the last term, Breyer wrote important opinions that upheld the Affordable Care Act, confirmed that students have the right to free speech off-campus, and ended a copyright dispute between Google and Oracle that was worth billions of dollars.
His early retirement during the Biden presidency, when Democrats still had a razor-thin majority in the U.S. Senate, helped make sure that his seat would be filled by someone who believed in the same way about the law as he did.
Breyer has said that the differences between the justices have more to do with their "philosophical outlooks" than with their politics, and he doesn't like it when people call justices "liberal" or "conservative."
"Politics to me is who's got the votes. Are you Republican or Democrat? I don't find any of that here," he said.
Breyer's Seat Will Be Taken By Ketanji Brown Jackson
Jackson, who is 51 and is currently on the U.S. Court of Appeals for the D.C. Circuit, will replace Justice Breyer and become the first Black woman to sit on the nation's highest court. With Jackson's appointment, white men will no longer make up most of the Supreme Court justices for the first time.
Tomorrow at high noon #SupremeCourt, Justice #StephenBreyer will retire and his position will be immediately taken over by #JudgeKetanjiBrownJackson. She will be the first black woman on the #SupremeCourt. This will also be the first time four women are on the court.

— Yaffa Lyulka (@IBelizeit) June 30, 2022
President Joe Biden officially announced Jackson's nomination earlier this year. He did this to keep a promise he made during his campaign before the South Carolina primary when he needed a lot of support from Black voters and Rep. Jim Clyburn.
"For too long our government, our courts haven't looked like America," Biden said in February from the White House. "And I believe it is time that we have a court that reflects the full talents and greatness of our nation with a nominee of extraordinary qualifications."
Jackson will also be the first former public defender to sit on the Supreme Court. From 1999 to 2000, she worked as a clerk for Breyer, and she said it was "extremely humbling" to be considered for his seat.
"I know I could never be as good as him, but if I were chosen, I would try to keep his spirit alive," she said.
I hope you found the information presented above to be of use. You can also look through our news section, where we normally cover all of the most recent news and happenings around the world. Visit our website if you'd like to learn more about this topic.