New York Poised to Limit Concealed Carry Guns After SCOTUS Ruling
Following the Supreme Court's decision to strike down New York's century-old weapons legislation, lawmakers on Thursday were expected to enact a plan that would severely restrict where concealed carry guns might be authorized in the state.
The state Legislature was called back to the Capitol by Gov. Kathy Hochul for a one-day session to address the court verdict. Voting was anticipated to occur later that evening among legislators.
Must read-
After The Supreme Court's Decision, New York Poised to Limit Concealed Carry Guns
Concealed carry would be prohibited in certain public places including schools and subways, permission requirements would be tightened, safe storage regulations would be strengthened, and a license would be needed to buy ammunition.
"This is dealing with the fact that the Supreme Court less than a week ago turned our world upside down," Hochul said at a news conference on Wednesday. "And now it says that there's going to be a much higher number of people walking our streets, going on the subway, sitting next to someone on a bus unless we take action to protect our citizens."
As a result of the court's 6-3 decision, which was split along ideological lines, New York's requirement that gun owners demonstrate "proper cause" before carrying a handgun outside the home for self-defense was overturned. Since 1911, the law had been in effect.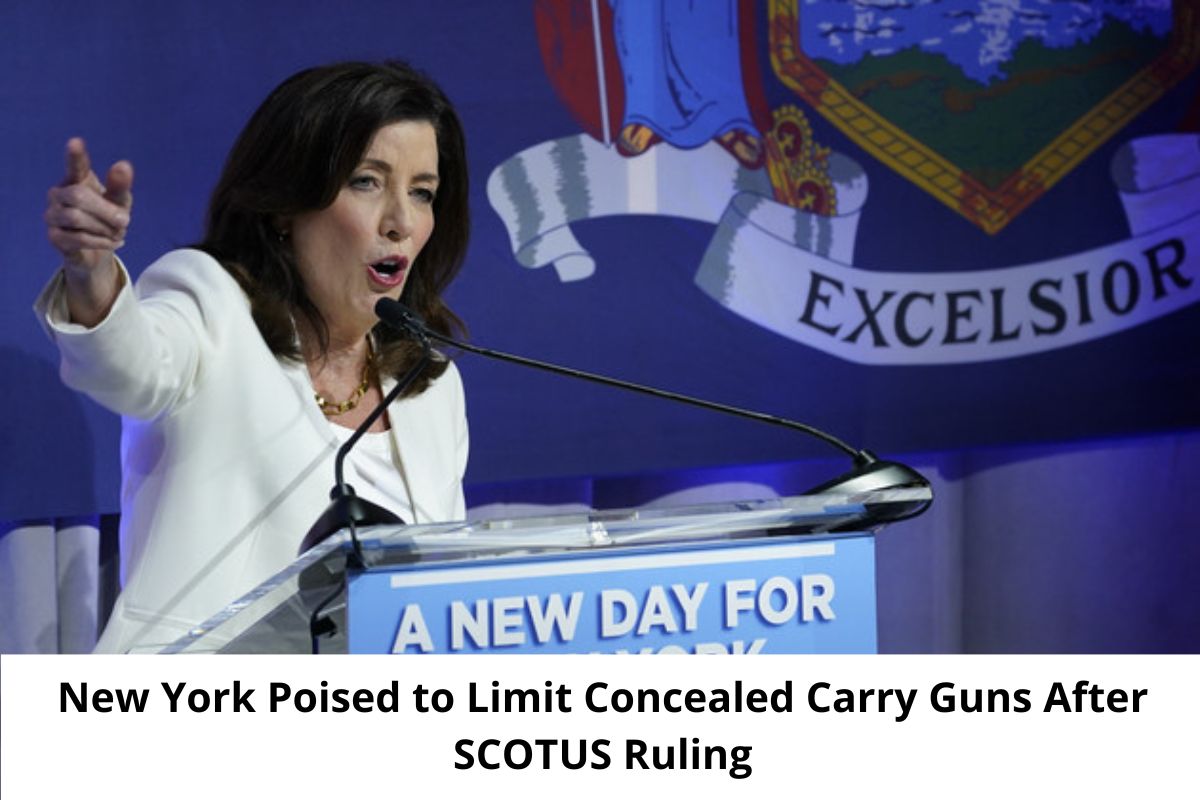 The judgment was felt all around the country, and it became obvious how the decision could affect jurisdictions outside of New York that has severe regulations on carrying firearms for self-defense outside the home. Two members of the court who joined in last week's ruling, Justice Brett Kavanaugh and Chief Justice John Roberts, believed it would affect only six states other than New York since they, too, put the onus on a gun owner to justify the issue of a permit.
Hochul said New York will pave the way with stringent rules governing concealed carry weapons, toeing the line of what's legally permissible without leaving the state exposed to another wave of lawsuits.
"I'm working hard with my team to have something that is common sense, something that is legally sustainable because of course there are challenges when we get sued every day of the week," Hochul said. "But I want to make sure that we've done everything we can to protect the citizens of this state."
For those saying the SCOTUS ruling is just giving the right to the states: Let's go further, let's give it to counties to decide. Actually, let's give it to cities. You know what, how about we go even further and give it to the individual woman to decide what to do. Oh wait…

— Jerry Blevins (@jerryblevins) June 25, 2022
She added: "I will go right up to the line, I will not cross the line, but I believe that we can do anything we can to defend New Yorkers."
However, lawmakers were not privy to the bill's exact content until they arrived in Albany, and they were expected to labor through the night in order to get it passed.
Sen. Zellnor Myrie (D-Brooklyn) told reporters, "The governor, I think, has made quite clear: A lot of things are still on the table and we are again in the new legal area, so we're trying to make sure that we do this right."
"We're continuing to have serious discussions because the consequences are hard to overestimate, and we want to ensure that we're doing this the constitutional way, in a way that comports with the court's opinion."
According to him, the law will primarily address two issues: who is eligible for a concealed carry license, and where that license can be used. Part of the package would mandate that private businesses affirmatively declare their willingness to welcome customers carrying concealed guns.
I hope you found the information presented above to be of use. You can also look through our news section, where we normally cover all of the most recent news and happenings around the world. Visit our website if you'd like to learn more about this topic.