Oregon School Safety Bills Criminalize Mass Violent Threats and Install Panic Buttons
This week in the legislature, multiple bills are being considered to handle both credible and unsubstantiated threats of violence in the classroom. Oregon schools were the target of hoax mass sh**ting threats earlier this year.
Lt. Brad O'Dell of the Douglas County Sheriff's Office posted on Facebook on February 21, 2023, the day schools in his area received fake threats of violence,
"We believe these to be swatting incidents to instigate police response and generate panic among responders and community members. "There have been similar incidents occurring nationwide for at least the past 24 hours. Law Enforcement will respond to and assess each incident appropriately."
This week, schools throughout Pennsylvania were forced to go into lockdown due to hoax threats. NPR noted in October that hoax reports of violence had increased. In addition, a guy who made over 20 hoax threats in the United States and Canada was recently detained in Washington state.
Recently, legislators from Oregon's two dominant parties have submitted bills to improve school security. Although Republicans in the House have advocated for school "hardening" measures like metal detectors, Democrats in the House have prioritized passing legislation to reduce g*n violence.
Threatening "cause unlawful serious physical injury or de@th to four or more persons at a school, place of worship, health care facility, place of business" would be considered a crime under a measure to be discussed during a work session on Monday(April 3, 2023).
Another would require that each school district establish procedures for informing parents in the event of an emergency. That legislation, as well as some others, seem to be in a position to pass. The two major parties can agree on some of these.
Making Mass-violence Threats a Crime
Representative Courtney Neron, a Democrat for Wilsonville, is a significant proponent of House Bill 3035, which seeks to criminalize the use of threats of physical violence in educational or public institutions.
"Law enforcement needs the tools to respond when a credible threat occurs," Neron added. "This bill will ensure that if a threat of mass harm is directed to a school, place of worship, hospital, or any other gathering space occurs, that law enforcement can respond swiftly and appropriately to keep people safe."
Students, faculty, and parents are understandably alarmed and troubled by hoax threats of violence at their schools. Actual school sh**tings and other public sh**tings, like the one that happened last week at a private elementary school in Nashville, have also contributed to increased fear for students and the public's safety.
There has been testimony both in favor of and against House Bill 3035. Disability Rights Oregon and the Oregon Criminal Defense Attorneys Association sent a joint statement expressing their worry about the "ripple consequences" a conviction would have on the offender, their loved ones, and society at large.
"HB 3035 will sweep up young people and mentally ill people and make the cycle in and out of the criminal legal system complicated to break," the organizations shared in the letter. The bill, they said, "will feed the school-to-prison pipeline."
The Oregon School Boards Association, the Oregon Association of Chiefs of Police, and the Oregon State Sheriffs' Association all backed the measure.
Ty Hanlon, chief of police in Sherwood, spoke on behalf of the latter two groups and described how, in May 2022, he dealt with 15 distinct threats to Sherwood schools and how the suspect was first charged with a misdemeanor that did not hold them in jail.
Hanlon said, "A misdemeanor today often results in a cite and release from the scene." "Without the ability to charge and hold someone, [it] does not protect the community or give law enforcement enough time to further investigate the case."
Representative Neron said he went to a Sherwood elementary school after pupils had been on lockdown for "half of a day."
She said, "I was struck by the lasting impact that the students felt from being terrified that day of the threat."They didn't even feel comfortable opening the exterior door to get fresh air in the classroom when it got stuffy, for fear of their safety."
A new change to the measure lays out a reporting effort to determine who would be impacted. If this law passes, the state will be responsible for reporting the number of persons who have been charged with "threatening a mass injury event," as well as the number of people who were the intended victims of these threats, broken down by demographics such as race, age, and handicap.
Democrats have introduced House Bill 3035. After the Nashville massacre sparked a national dialogue about school safety, several Republican senators introduced a few proposals to address the issue.
Don't miss out on all the breaking news and rumors from Oregon State-
Policies for Notification and Panic Buttons
This week, Republican lawmakers lobbied for the passage of a series of proposals titled "Safe Schools," which would mandate everything from research on school safety to state funding for on-campus police.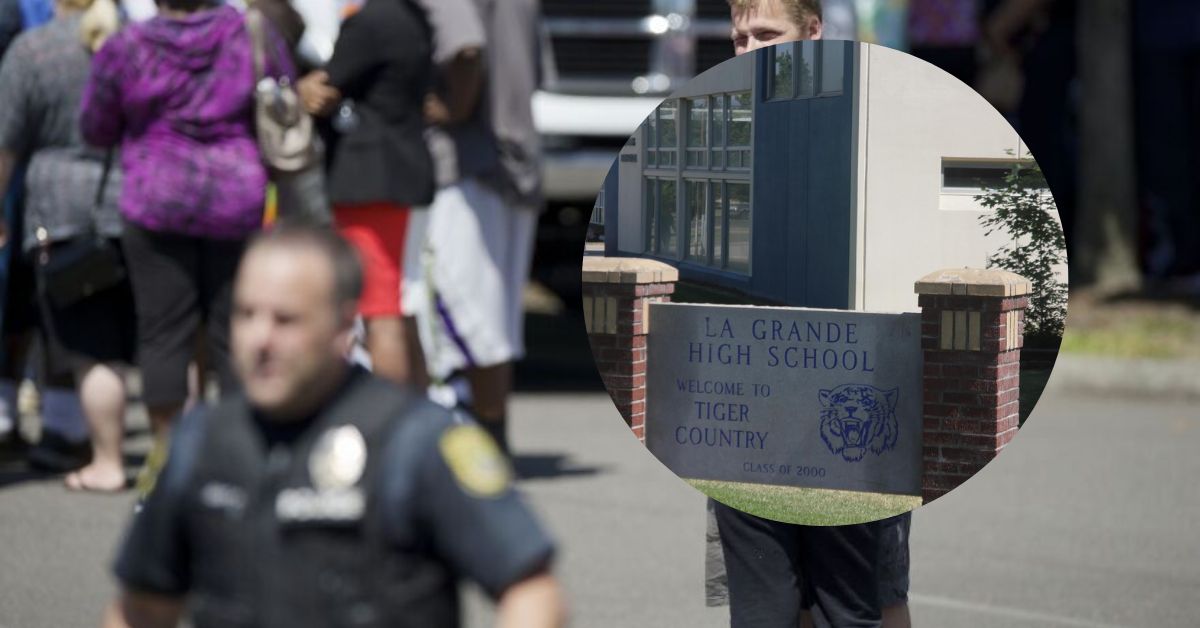 Two of the proposals in the Republican package were introduced initially or co-sponsored by Democrats, and the GOP in the House tried to force a vote on them. The threshold for advancement was 31 votes, and just one was reached.
A protocol for alerting parents and employees about school safety issues, including lockdowns and evacuations, would be mandatory under House Bill 3584. One of the bill's primary sponsors is a Republican from Hood River, Representative Jeff Helfrich.
Helfrich, a former Portland police officer, spoke in favor of the measure at a public hearing on March 20."Having this type of system … is crucial not just for the law enforcement side, but it's more for the parents and the students so they know they're safe," he said.
Rep. Ricki Ruiz (D-Gresham) tweeted that further legislation will mandate research on school safety and possible remedies by the Oregon Department of Education. House Bill 3348, which Ruiz mentioned, would require research into expanding the Salem-Keizer threat assessment program statewide. The Salem-Keizer program is widely implemented because of its proactive approach to student assistance before incidents of violence occur.
On Monday (April 3, 2023), there will also be a work session on House Bill 3348. The amendments are based on two stalled measures with Republican support; one mandates a study by ODE on the expenses and financing sources for improving school safety, and the other requires a study by the state on the feasibility of creating a single point entry for schools throughout the state.
Another kid who died in the Parkland school tragedy has legislation named after them. House Bill 3101, often known as Alyssa's Law, would mandate the installation of panic buttons in all school classrooms. Pushing a panic button quickly contacts emergency services and law police.
Rep. Emerson Levy (D-Bend), one of the bill's primary proponents, stated, "It's an opportunity for better communication."
According to Levy, installing panic buttons in every Oregon school costs over $2.5 million. She said the regulator has also been utilized to help students with seizures or anaphylactic shock at school.
New Jersey and Florida both have versions of "Alyssa's Law," and other states hold votes on similar measures. Levy characterized the plan as a "common sense" safety reform that cuts across political lines. "No one, no one wants our kids not to be safe at school," Levy said.
You can catch up on the latest stories we've covered by visiting our site.