Pat Cipollone Concludes Closed-Door Meeting With January 6 Committee
On Friday, the House select committee investigating the insurrection of January 6, 2021, finished its closed-door interview with Trump White House counsel Pat Cipollone.
The committee was expected to ask Cipollone about his observations of the final days of the Trump administration when the former President and his allies attempted to overturn the election.
Must read-
Pat Cipollone Concludes Closed-Door Meeting
The interview was filmed and may be played at future hearings, such as the one scheduled for this Tuesday to discuss the origins of the violent mob and the role of extremist groups, or at a later, as-yet-unannounced hearing to discuss Trump's inaction on the first 187 minutes as protesters stormed the US Capitol.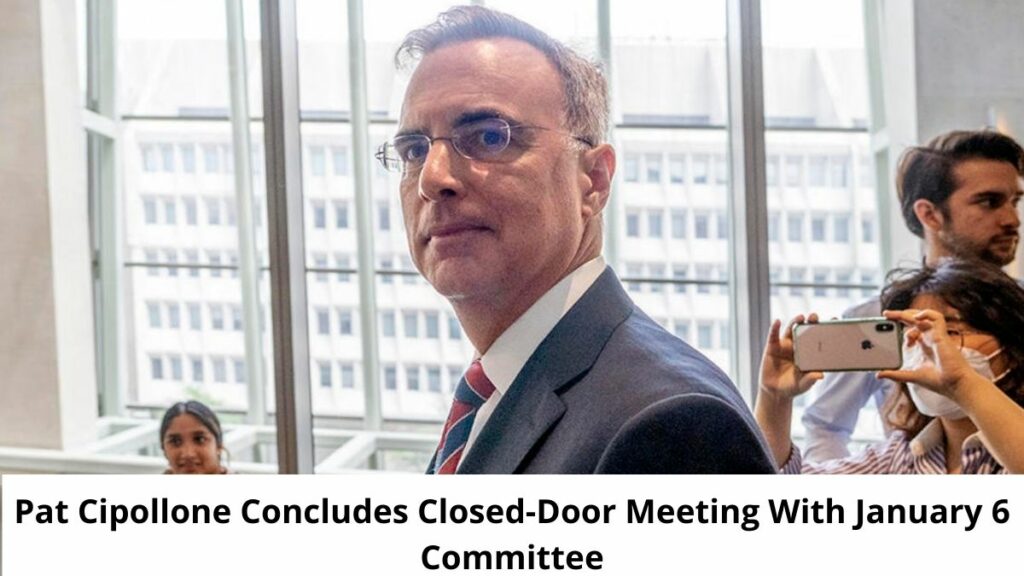 On Friday, Cipollone attended close to eight hours of meetings with the committee. When entering and leaving the room, he did not address reporters. Throughout the course of the day, Cipollone took a total of seventy minutes worth of breaks from the interview to meet with his counsel in a separate conference room.
This Friday's appearance is the culmination of months of talks between his attorneys and the panel convened on January 6 to determine what issues can be discussed. Before, in April, he had a more casual meeting with the committee.
According to two people familiar with the panel's investigation, Cipollone was among the small group of people who sat with Trump in a dining room off the Oval Office as he watched television coverage of the Capitol riot. Other witnesses have told the committee that Cipollone, Ivanka Trump, and Dan Scavino were all present at different times with the President during this period.
As with other witnesses who have testified before the committee, Cipollone may be able to shed light on Trump's mental state during the violent events. One of Trump's White House staffers, Cassidy Hutchinson, testified that she overheard protesters chanting "hang Mike Pence" in the dining room.
The committee is seeking Cipollone's on-the-record testimony as a key fact witness because of his presence in the dining room, which has been described by multiple witnesses.
Democratic California Representative Zoe Lofgren told Wolf Blitzer on Friday's "The Situation Room" that Cipollone's testimony "did not contradict the testimony of other witnesses, and I think we did learn a few things which we will be rolling out in hearings to come."
"Not contradicting is not the same as confirming," Lofgren said when asked whether Cipollone corroborated Hutchinson's testimony.
When questioned about the distinction, Lofgren responded,  "Well, he could say so and so was wrong — which he did not say. There were things he might not be present for or, in some cases, couldn't recall precisely."
"I think he was candid with the committee. He was careful in his answers, and I believe that he was honest in his answers," she added.
The committee has repeatedly mentioned Cipollone as a key witness, so it is clear that he has made an impression.
On January 3, 2021, Trump considered replacing Acting Attorney General Jeffrey Rosen with DOJ environmental lawyer Jeffrey Clark. Unlike Rosen, Clark was willing to use the power of federal law enforcement to back Trump's baseless claims of election fraud. Cipollone was present for this important oval office meeting.
Jared Kushner's testimony was played for the committee, in which he said that Cipollone and his team "were always saying, 'Oh, we're going to resign. That's it; if this or that happens, we're out of here But Kushner said, "I kind of took it up to just be whining, to be honest with you."
The committee had previously made public efforts to compel Cipollone to testify under oath before the scheduled interview.
"Our Committee is certain that Donald Trump does not want Mr. Cipollone to testify here," said GOP Rep. Liz Cheney of Wyoming.
"We think the American people deserve to hear from Mr. Cipollone personally," she added. "He should appear before this Committee, and we are working to secure his testimony."
I hope you found the information presented above to be of use. You can also look through our news section, where we normally cover all of the most recent news and happenings around the world. Visit our website if you'd like to learn more about this topic.