Sanders Accuses Manchin of 'Intentionally Sabotaging' Biden's Agenda by Opposing Build Back Better
Senator Bernie Sanders, an independent, lashed out at Senator Joe Manchin on Sunday for sinking the Democratic-led climate and tax bill that the party had been negotiating for weeks.
He told ABC News correspondent Martha Raddatz that Manchin was "sabotaging" President Joe Biden's agenda by saying he could no longer support the legislation because of his worries about inflation.
Must check-
And when Raddatz said that Manchin had "abruptly" ended talks with Democratic leaders about the bill, he became visibly animated.
Bernie Sanders Accuses Joe Manchin
When Raddatz began to say, "Senator Joe Manchin, of course, abruptly pulled the plug this week on the Democratic plan," Sanders cut him off.
"He didn't abruptly do anything," Sanders said. "He has sabotaged the president's agenda."
 "If you check the record six months ago, I made it clear that you have people like Manchin and [Arizona Sen. Kyrsten] Sinema, to a lesser degree, who are intentionally sabotaging the president's agenda, what the American people want, what a majority of us in the Democratic caucus want. Nothing new about this," he continued.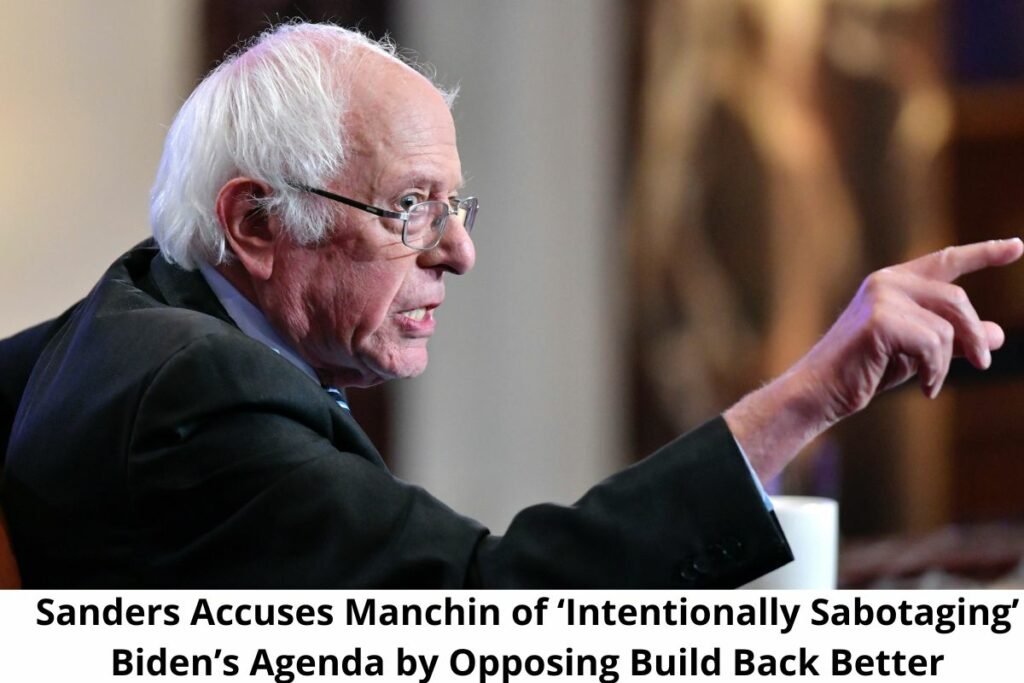 Sanders then launched an attack on Manchin's political fundraising, highlighting his ties to the energy industry (which has tremendous sway in West Virginia) and Republican donors.
"This is a guy who is a major recipient of fossil fuel money … a guy who has received campaign contributions from 25 Republican billionaires," he said.
Sanders retorted to Raddatz's argument that Manchin claimed he was acting in West Virginia's best interest because inflation in the state had increased by 9.1 percent from a year earlier; Sanders replied: "Really? Really?"
In an interview that took place on Friday with a broadcaster from West Virginia named Hoppy Kercheval, Manchin stated that he had informed Senate Majority Leader Chuck Schumer of New York that he desired to see the inflation figures for the month of July the following month before taking any further action on the bill.
"I said, 'Chuck, until we see the July inflation figures, until we see the July Federal Reserve rates, interest rates, then let's wait until that comes out so we know that we were going down the path that won't be inflammatory to add more to inflation. Inflation is absolutely killing many, many people,'" he said during the interview, pointing to higher food and fuel costs.
On Sunday, Sanders said that he was unconvinced by Manchin's arguments in favor of the bill.
He told Raddatz, "Same nonsense that Manchin has been talking about for a year." "You ask the people of West Virginia whether they want to expand Medicare to cover dental, hearing, and eyeglasses. The people of West Virginia should be polled on the question of whether or not they agree that access to medical care is a basic human right."
He said, "In my humble opinion, Manchin represents the very wealthiest people in this country, not working families in West Virginia or America."
Manchin is no longer worthy of trust, according to Representative Pramila Jayapal of Washington, who chairs the Congressional Progressive Caucus. Jayapal made this statement to Politico last week.
In December of last year, Manchin scuttled the party's multibillion-dollar social-spending bill, Build Back Better. The bill was designed to implement universal pre-K, extend the child tax credit for another year and address climate change, among other things.
Manchin, who effectively held veto power in the Senate's 50-50 split, scuttled the legislation to the dismay of President Biden and congressional Democrats.
On Friday, Biden urged Democrats to approve a bill to reduce the federal deficit while addressing health care needs.
I hope you found the information presented above to be of use. You can also look through our news section, where we normally cover all of the most recent news and happenings around the world. Visit our website if you'd like to learn more about this topic.