Space Force Season 2 Release Date Status, Plot, Cast, Trailer And Latest Updates
Renewed back in November 2020, season 2 is all set to be released on Netflix. The workplace comedy series revolves around a US government team trying to get people on the moon in order to achieve space domination called the Space Force. The show takes a light-hearted take on the Space Force making viewers laugh every now and then because of the characters' quirky and a bit crazy nature.
Created by Greg Daniels and Steve Carell, Space Force Season 2 is going to be a treat to watch. But before the season releases, here are a few details you should know about it.
My Brilliant Friend Season 3 Release Date, Trailer, Plot & News to Know
Space Force Season 2 Release Date
An official release date for season 2 has been announced. The show will be coming back with all its 30 minutes 7 episodes on February 18, 2022. All these episodes will be released together on Netflix so clear out your schedule for the day so that you can binge-watch the new season.
The filming for season 2 began back in May 2021 and wrapped up by June 2021. So, the show's final touches have also been completed and all that's left is for the season to air.
Space Force Season 2 Plot
The first season took place in 2019 and ended on a cliffhanger. Now, it will proceed from there. The plot for this season will revolve around General Mark Naird and his team trying to prove their worth to the US administration.
It seems like besides having to prove themselves, each part of the team has personal issues to deal with as well. This means under all this pressure and their personal issues, the team might crack and fail to prove themselves. However, there is every bit of a chance they might survive and we might get to see the Space Force for a season 3. Throughout this journey, each member will make you laugh.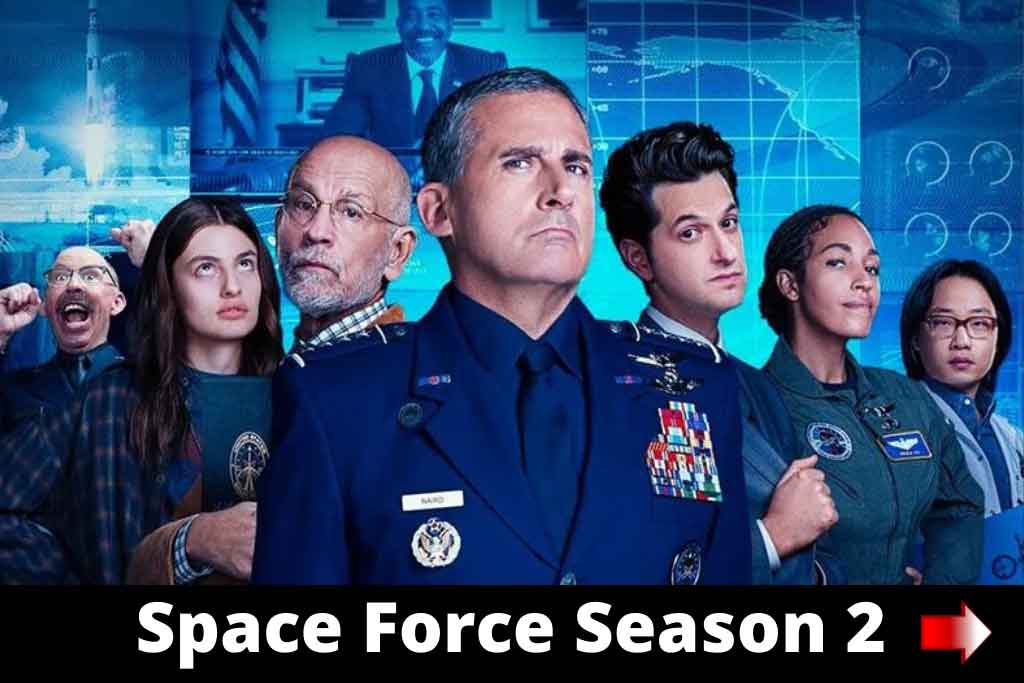 The show will also show why Mark's wife is in prison. As the entire season, 1 passed, but the reason remained a mystery throughout. We might even get to see Dr. Chan and Angela's love bud into something more. There are whole other possibilities as well for season 2. So get ready to watch it when it premieres.
Space Force Season 2
Cast
For this, the main characters will be returning along with some new members. Here is a list of them all:
Steve Carell as General Mark R. Naird

John Malkovich as Dr. Adrian Mallory

Jimmy O. Yang as Dr. Chan Kaifang

Tawny Newsome as Captain Angela Ali

Ben Schwartz as F. Tony 

Lisa Kudrow as Maggie Naird

Diana Silvers as Erin Naird
Space Force Season 2 Trailer
Yes, a trailer for season 2 has been released. After all, the release date is so close. You can check it out on Youtube and Netflix. Although here's a little warning! Be prepared to watch Steve Carell make you laugh with his stunts.
The 2-minute trailer shows Mark Naird trying to prove how valuable he and his team are so that they are not shut down by the new administration that has taken office. However, there is a time limit. Within five months, the team at Space Force should prove their worth otherwise it's goodbye for them. The trailer also portrayed the quirky side of each character who is returning.
Lightyear Release Date, Cast, Plot, and Trailer- Recent Updates