Ghibli x Lucasfilm: Fans Argue Anime Studio Is In For Star Wars Visions Season 2
Star Wars Visions Season 2: The recent announcement of a collaboration between Studio Ghibli and Lucasfilm has fans speculating about Star Wars Visions Season 2 animated series.  In the debate over which four studios should be carved into stone as the "Mount Rushmore" of animation, Studio Ghibli always comes out on top.
Studio Ghibli, with its trademark visual style, is one of the most influential and revolutionary businesses in animation history, winning multiple honours from critics and selling out theatres across the world. Fans of the Ghibli animation studio are rejoicing this week at the studio's reported collaboration with Lucasfilm, with many speculating that the Star Wars Visions Season 2  would include Ghibli's work.
Season one of Disney+'s Star Wars  Visions featured contributions from top-tier Japanese animation studios; Star Wars Visions Season 2 will expand upon that. James Waugh, the show's executive producer, told Deadline that season two of Visions will focus more on international issues.
Studio Ghibli Announces Collaboration With Lucasfilm
Studio Ghibli's official Twitter account shared a 15-second clip on November 10 that began with the Lucasfilm logo and transitioned to the Studio Ghibli logo. The teaser was released without any additional context, but it appears to confirm that the two production companies will be working together on a future project.
The official Star Wars Twitter handle has since confirmed this by retweeting and quoting from the Studio Ghibli short. Ghibli's Twitter account has also recently posted an image of Grogu from The Mandalorian. The preview video has already been seen over 8.8 million times in less than 24 hours after it was released.
As noted by Vulture, "The details are slim; there's no hint as to what kind of project they could possibly be working on."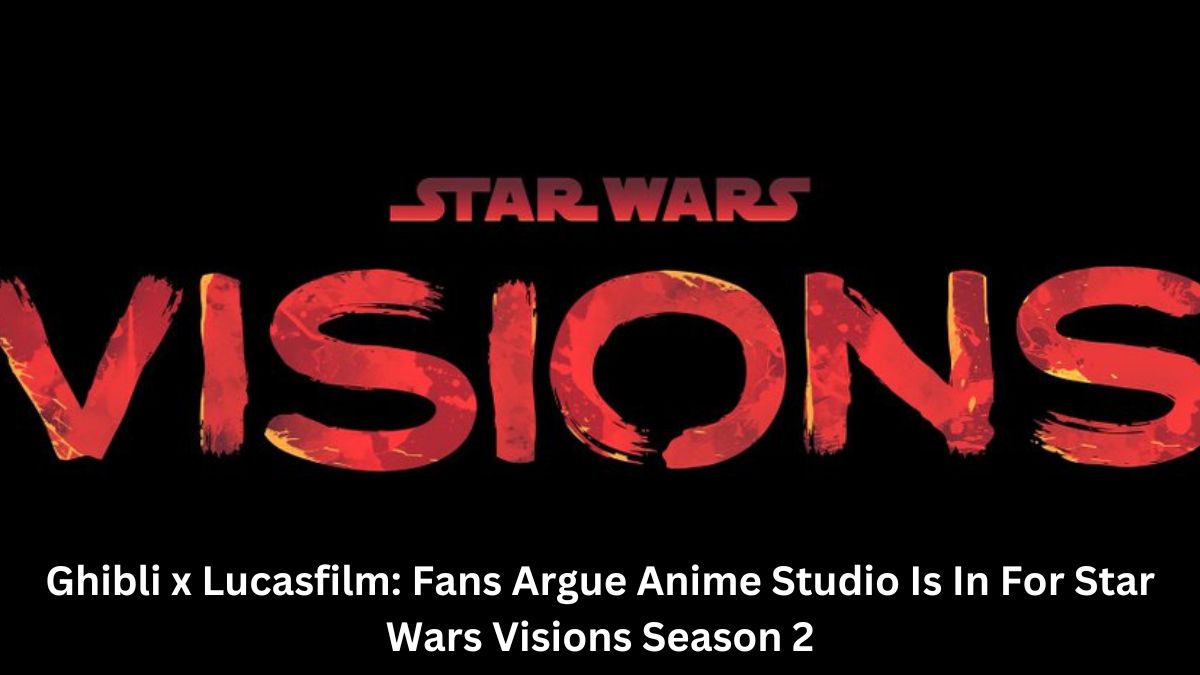 In addition to the Star Wars saga, Lucasfilm has created a number of other original works, such as the Indiana Jones films (1981-present), Willow (1988), Howard the Duck (1986), and Labyrinth (1986). (1986).
Having produced such classics as "My Neighbor Totoro" (1988), "Princess Mononoke" (1997), "Spirited Away" (2001), "Howl's Moving Castle" (2004), "Ponyo" (2008), and "From Up on Poppy Hill," Studio Ghibli is undoubtedly among the most well-known anime production studios in the world.
Fans Hope A Star Wars Visions Season 2 Feature
It should be noted that while a relationship with Lucasfilm has been verified, it has not been confirmed that Studio Ghibli is working on a Star Wars project; still, this seems the most plausible possibility. The general public agrees that Studio Ghibli and Lucasfilm will work together on a new Star Wars project, and it's highly probable that this collaboration will be included in the second season of Visions rather than being a spinoff.
My guess: Star Wars Visions Season 2 👀✨ https://t.co/So7b5O1gPr

— Emily Rose ✨ (@Frankly_Emily) November 10, 2022
Star Wars Visions Season 2  will premiere in the spring of 2023. As an anthology series, it will feature episodes created by a variety of different animation studios. Studio Colorido, Geno Studio, Kinema Citrus, Studio Trigger, Science SARU, Production IG, and Kamikaze Douga all contributed episodes to the first season in 2021.
Disney's description of the Star Wars Visions Season 2  as a "global tour" that highlights "great animation happening across countries and cultures" increases the likelihood that Studio Ghibli will contribute an episode to the series.
I hope you found the information presented above to be of use. You can also look through our news section, where we normally cover all of the most recent news and happenings around the world. Visit our website if you'd like to learn more about this topic.