Staten Island Supermarket Employee Arrested for Attacking Rudy Giuliani Inside Store
The incident, which took place on Sunday inside a ShopRite on Staten Island when Rudy Giuliani was campaigning for his son, left the 78-year-old former mayor of New York City disturbed, according to the ex-politician said about the incident.
Giuliani stated that he had just gotten out of the men's room at the store on Veteran's Road and was being greeted by a bunch of supporters when he was suddenly hit from behind, an incident that was caught on surveillance video.
Must read-
Staten Island Employee Arrested For Attacking Rudy Giuliani
"All of a sudden, I feel this, 'Bam!' on my back," Giuliani said. "I don't know if they helped me not fall down, but I just about fell down, but I didn't."
"I feel this tremendous pain in my back, and I'm thinking, what the — I didn't even know what it was," he said. "All of a sudden, I hear this guy say, 'You're an f–king scumbag,' then he moves away so nobody can grab him.
"And he says, 'You, you're one of the people that's gonna kill women. You're gonna kill women,' " Giuliani said, quoting the suspect, who now faces assault charges. " 'You and your f–king friend are gonna kill women.' Then he starts yelling out all kinds of, just curses, and every once in a while, he puts in that woman thing.
" 'You guys think you're saving babies, but you're gonna kill women,' " the worker continued to rage, according to Giuliani, also a lawyer for former President Donald Trump.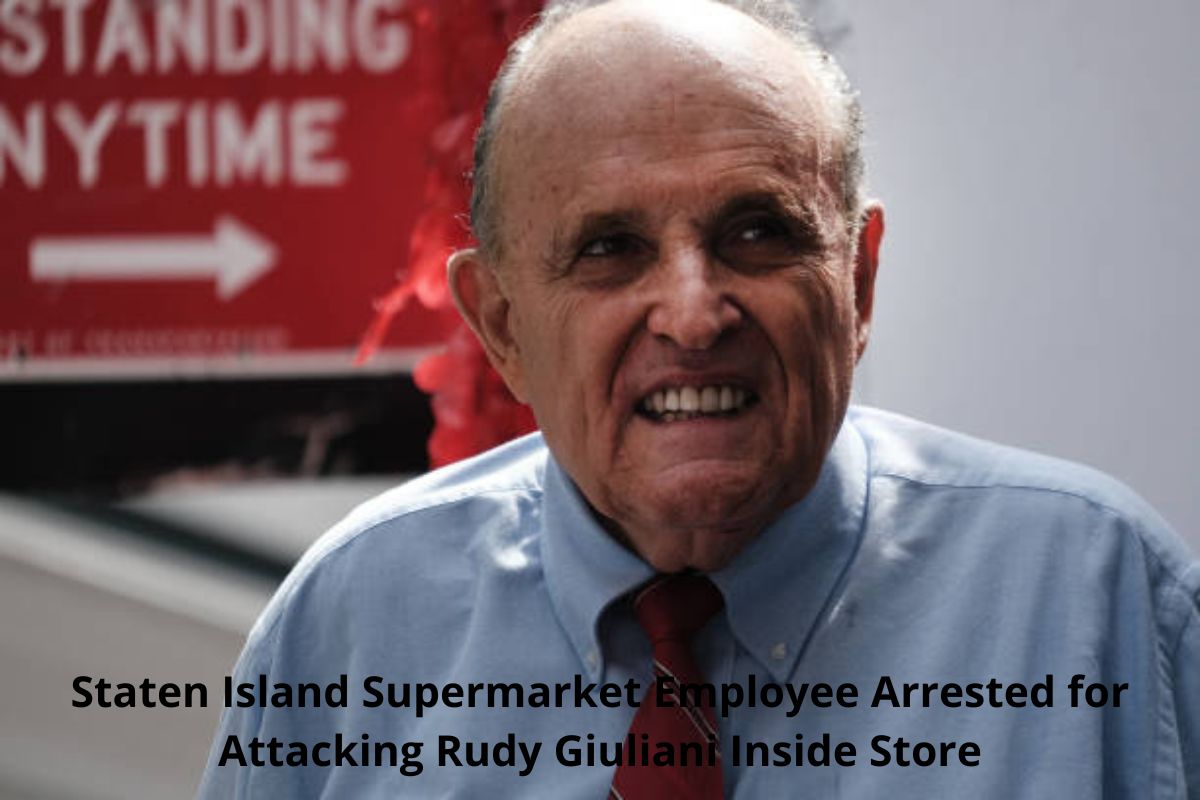 The event took place on the second day following the Supreme Court's decision to overturn the Roe v. Wade abortion decision from 1973.
"The Supreme Court made a decision," Giuliani said. "You don't go around attacking people because of it. I mean, go get it changed."
During an appearance on the Curtis Sliwa Show on talk radio station 77 WABC, the former mayor stated that the slap felt like "someone shot me," and that "luckily, I'm a 78-year-old who is in very excellent shape."
LOL this was the Rudy Giuliani "attack" at a Staten Island ShopRite today pic.twitter.com/Tsjek2Gykl

— Wu-Tang Is For The Children (@WUTangKids) June 26, 2022
"If I wasn't, I would have hit the ground and probably cracked my skull."
The former federal prosecutor stated in an interview that he thought it was his responsibility to call the police, and he compared his choice to his firm stance against crime when he was mayor.
"I say to myself, 'You know something? I gotta get this guy arrested,' " he said. "I talk about 'broken windows' theory all the time. You can't let the little things go.
"I'm like, 'I'm gonna get this guy arrested as an example that you can't do this."
Andrew Giuliani, who is running for governor of New York, has described his father as "tough as nails."
"He's doing fine," Andrew said. "But it's a sad day when New Yorkers' greatest crime fighter, 'America's Mayor,' is attacked. I blame the left-wing for encouraging violence. This is crazy."
He reported that his father was in a good mood and even made a witty remark, saying, "I ran into the sole person who is not voting for Andrew Giuliani."
He said his father was in good spirits and even quipped that " 'I ran into the only person who is not voting for Andrew Giuliani.'
" 'I'm feelin' good,' " he said his dad assured him.
According to our sources, law enforcement put the suspect into custody while they were still at the store.
Daniel Gill, 39 years old, a resident of Staten Island, was arrested and charged with assault in the second degree against a person over the age of 65. According to the sources, Gill does not have any prior arrests.
According to our sources, the police were called to the supermarket just before 3:30 in the afternoon.
I hope you found the information presented above to be of use. You can also look through our entertainment section, where we normally cover all of the most recent TV episodes, web series, anime, and other media. Visit our website if you'd like to learn more about this topic.