Has Apple Lost Its Magic a Decade After Steve Jobs' Death?
Apple's founder, Steve Jobs, died ten years ago. Since then, the company has grown into a huge empire of devices and services and has become the world's most valuable company. However, diehard fans of the tech legend lament that the company has lost its revolutionary spirit.
"Apple doesn't innovate anymore" or "Steve Jobs is turning in his grave" are the type of disillusioned tweets that show up, especially during product debuts led by Tim Cook, who seized Apple's helm in August 2011.
After a battle with pancreatic cancer, Jobs died on October 5, 2011, leaving his demanding intensity in the company's DNA.
Every time a new iPhone, iPad, or Apple Watch is introduced, CEO Tim Cook uses the same over-the-top phrases that Jobs popularised to announce what are essentially minor improvements to the devices' cameras or processors.
Now That Jobs has Died, Will These Innovations Make a Difference?
Rob Enderle, an analyst for the technology sector at Enderle Group, recently made the statement that Apple had lost the potential to release products that may revolutionize a market.
"They became a financially-focused company very effective at milking its faithful users," he added.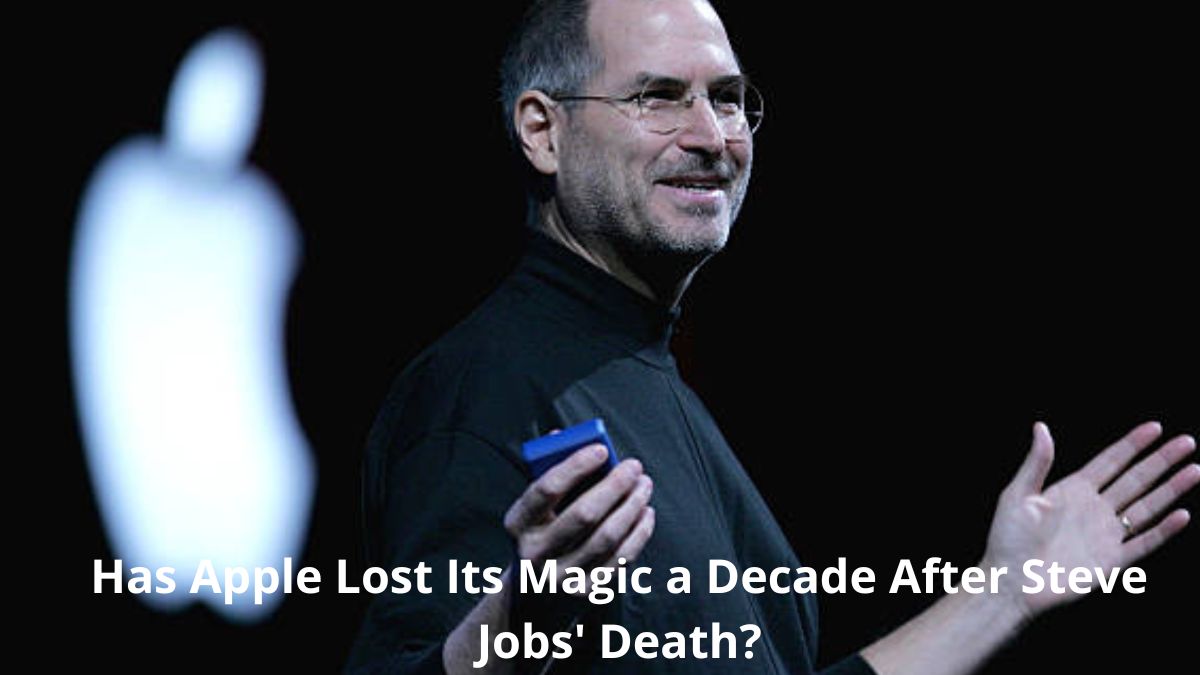 Since its humble beginnings in a garage in 1976, Apple has profoundly affected hundreds of millions of people's lives with innovations like the iPod, released in 2011, and the iPhone, introduced in 2007, which made the internet portable.
Subsequently, Apple introduced the Apple Watch, an internet-connected wristwatch.
Analyst Carolina Milanesi observed, "The measure of Apple is always innovation, that's what people focus on… another component of a company's success is its ability to alter themselves."
Music, payments, films, and games are just some of Apple's many services thoughtfully integrated into its devices.
The company had to learn about things other than making hardware. Milanesi called this strategy "more ropes that bring people to Apple… and keep them here."
Apple faced the brink of death multiple times. Steve Jobs was fired before being re-hired years later. And he had many large, public product failures.

And then he became the greatest CEO of our generation.

Nothing is ever linear. Nothing goes perfectly to plan. Just keep going.

— Nate Watkin (@NateWatkin) August 26, 2022
According to Walter Isaacson's biography, Jobs would not have rejected this course of action because he was always eager to exert complete control over his consumers' interactions with his company.
Whatever the case, Apple's success under Cook has thrilled investors: the company's brand value has increased from around $350 billion 10 years ago to $2.358 trillion today.
Analyst Dan Ives forecast that "in our estimation," Apple would reach $3 trillion during the next six to nine months. He shares the opinion of many outsiders who have kept tabs on the California giant: that Apple has never ceased innovating.
He makes special reference to the creation of the M1 chip, which has begun to displace Intel in some cutting-edge gadgets.
"I think Apple evolved with time, and so has Cook, and I think the one thing that Jobs was a huge believer in was innovation organically," said Ives.
Noting that the iPhone will remain the "heart and lungs" of Apple's growth story for years, he predicted that the company would release a virtual reality headset and possibly even a car by 2024.
I hope you found the information presented above to be of use. You can also look through our news section, where we normally cover all of the most recent news and happenings around the world. Visit our website if you'd like to learn more about this topic.