Steve Jobs Quotes', "Death Is Very Likely The Single Best Invention Of Life"
Less than eight weeks after he resigned as Apple's CEO, the company announced that Steve Jobs had passed away.
"Steve's brilliance, passion, and energy were the source of countless innovations that enrich and improve all of our lives," Apple said. "The world is immeasurably better because of Steve."
Steve Jobs has been battling serious health difficulties, including pancreatic cancer and a liver transplant, for almost a decade. Still, the news of Jobs' death shocked many people, especially since the devices Jobs invented were used to spread the news and enable millions of people worldwide to express their grief and gratitude for his contributions to technology.
The news of Jobs' death brought to mind his 2005 commencement address to Stanford University's graduating class, in which he openly addressed his diagnosis of pancreatic cancer. "Think Different" was the motto that defined Apple and its founder. It was also how Jobs thought about his own death. He was able to push his own thinking about something that is both universal and deeply personal.
"Death is very likely the single best invention of Life. It is Life's change agent," explained Jobs.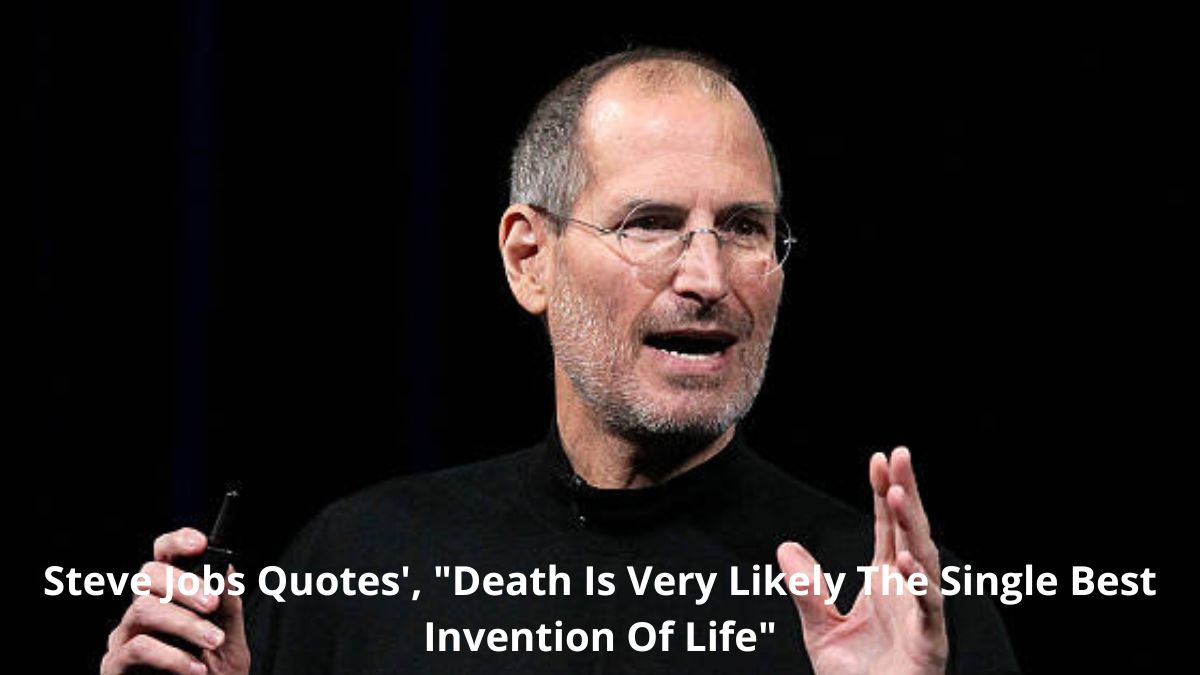 Steve Jobs Quotes on Death
When I was 17, I read a quote that went something like: If you live each day as if it was your last, someday you'll most certainly be right. It made an impression on me, and since then, for the past 33 years, I have looked in the mirror every morning and asked myself: If today were the last day of my life, would I want to do what I am about to do today? And whenever the answer has been No for too many days in a row, I know I need to change something.
Steve Jobs delivered the commencement speech at Stanford University on June 12, 2005.

16 years later, its wisdom remains.

THREAD: Lessons from Steve Jobs (on careers, startups, and life): pic.twitter.com/akLOnbtAxw

— Sahil Bloom (@SahilBloom) June 12, 2021
Remembering that I'll be dead soon is the most important tool I've ever encountered to help me make the big choices in life. Because almost everything, all external expectations, all pride, all fear of embarrassment or failure, these things just fall away in the face of death, leaving only what is truly important. Remembering that you are going to die is the best way I know to avoid the trap of thinking you have something to lose. You are already naked. There is no reason not to follow your heart.
(Speech at Stanford University, 2005)
No one wants to die. Even people who want to go to heaven don't want to die to get there. And yet death is the destination we all share. No one has ever escaped it. And that is as it should be because Death is likely the single best invention of Life. It is Life's change agent. It clears out the old to make way for the new.
(Speech at Stanford University, 2005)
I hope you found the information presented above to be of use. You can also look through our news section, where we normally cover all of the most recent news and happenings around the world. Visit our website if you'd like to learn more about this topic.