Everything We Know About Stranger Things Season 4
Season four of Stranger Things is finally here, and it has a lot of unanswered questions after the dramatic 77-minute climax, "The Battle of Starcourt."
Superfans received a mind-blowing quantity of information from Netflix on February 17, 2022, concerning the Hawkins gang and where their future is headed.
Some of it is heartening, while other parts left us feeling a little queasy. We also received a slew of new photos on March 23.
Here's what you need to know about the forthcoming episodes, so grab your Eggos and settle back.
Release Date for Stranger Things Season 4
The release date for Stranger Things season four has been announced, and it will be split into two parts.
The first half of the series will premiere on Netflix on May 27, 2022, while the second half will follow six weeks later on July 1, 2022.
The events we're about to witness will then pave the way to Stranger Things season five – which is, sadly, the final season of the show.
The Duffer brothers said in a lengthy announcement letter, "With nine scripts, over eight-hundred pages, almost two years of filming, thousands of visual effects shots, and a runtime nearly twice the length of any previous season, Stranger Things 4 was the most challenging season yet, but also the most rewarding one. 
"Everyone involved is incredibly proud of the results, and we can't wait to share them with you."
 Producer Shawn Levy said, "Well, we never wanted to run on fumes and we wanted to only tell as much story as the Duffer brothers saw and feel with clarity.
"So it's been clear for a while that they know exactly where we're headed and this is the arc."
He further said, "We wouldn't want to stick around for one moment beyond that vision and the clarity of that voice. So rather than focusing on that sad day that happens who knows when, at the end of season five, I'll just once again reaffirm what I've told everyone, which is it has been a long-ass wait for season four.
"But I swear to God, the world will realize it's worth it."
The Cast of Stranger Things Season 4
You can expect to see a slew of familiar faces back on your screens, including Eleven (Millie Bobby Brown), Dustin (Gaten Matarazzo), Will (Noah Schnapp), Max (Sadie Sink), Steve (Joe Keery), Nancy (Natalia Dyer), Robin (Maya Hawke), Jonathan (Charlie Heaton), and Joyce (Winona Ryder) among others.
Additionally, it has been confirmed that David Harbour will be returning as Hopper, despite the allegedly catastrophic end to season three.  Harbour told Total Film, "So we'll see a very different guy going forwards. The same guy, but in a different vein. It's a very cool thing to be able to play."
When Eleven uncovered boxes labeled "dad" "Vietnam" and "New York" in Hopper's attic in season two, Harbour hinted that season four will disclose more about his history.
It was at Liverpool Comic-Con when the actor said, "In season four we will give you a big, huge reveal about Hopper's backstory, which we haven't really told you about… we're gonna express it in a big way.
"It's my favorite thing about him that you guys don't know about him yet, but it has to do with these backstories of New York, Vietnam, and dad."
In an interview with Entertainment Weekly Harbour said, "I think I have the best storyline… What we're trying to do, as we elaborate this thing, [is] to draw it back and make sure that we don't have an endgame like some of us thought about, that show Lost… 'What happened to the polar bear?!'"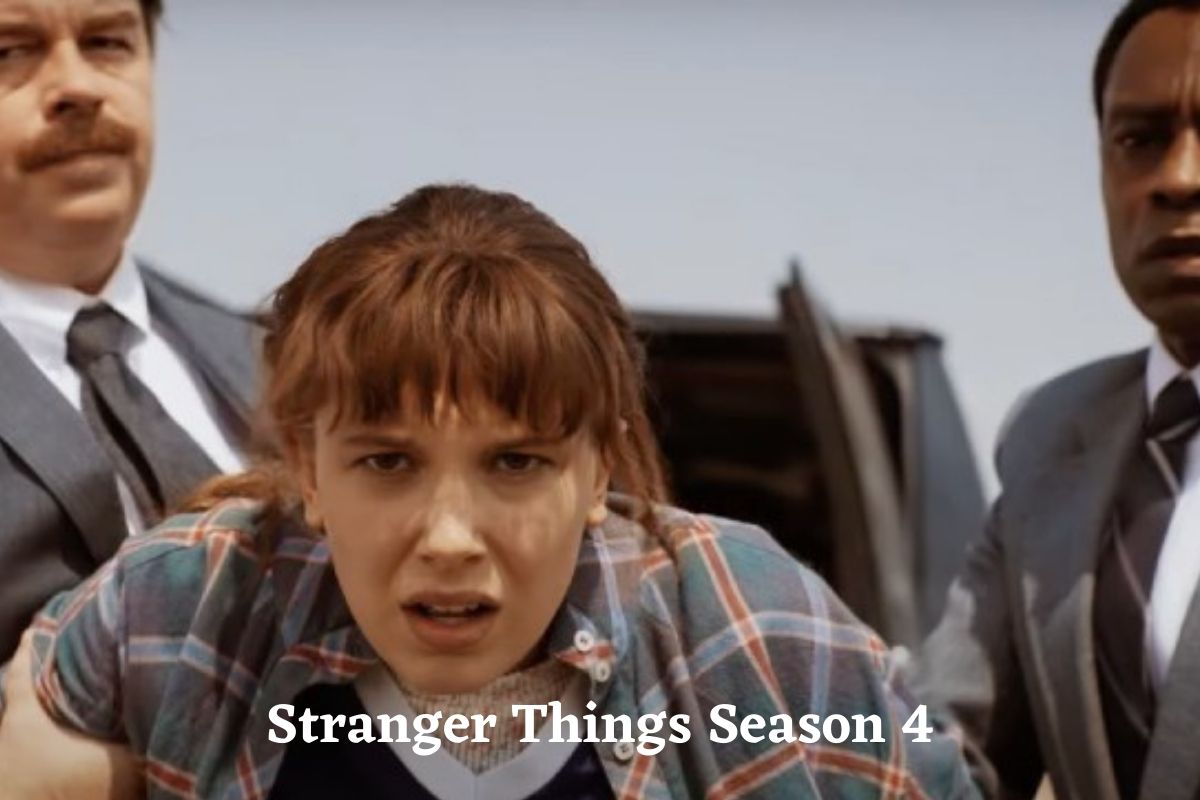 "We're trying to draw in, so the [elements of the storyline] start to come to a head and become a complete piece. Season four lays a lot of pipe for that."
Myles Truitt will portray Hawkins' basketball player Patrick, whose life will spin out of control after some "terrible tragedies," while Amybeth McNulty will portray Vickie, a "smart, fast-talking band nerd".
Other notables include Regina Ting Chen (Queen of the South), who will portray guidance counselor Ms. Kelly and play a popular cheerleader at Hawkins High School named Chrissy. However, "beneath the seemingly perfect surface lies a dark secret" as Regina Ting Chen says.
They join a group of new cast members that was first announced in November 2020:-
"A disturbed and intimidating man who is imprisoned in a psychiatric hospital" will be played by Robert Englund, better known as Freddy Krueger.
Dmitri is a "smart and charming Russian prison guard" played by Game of Thrones' Tom Wlaschiha (Jaqen H'ghar).
"A handsome, rich athlete dating the most popular girl in school" (can't wait to see what Steve Harrington thinks of him) is Mason Dye from Teenwolf.
Harry Potter's young Grindelwald, Jamie Campbell Bower, is Peter Ballard," a caring man who works as an orderly at a psychiatric hospital".
A "fun-loving stoner, pizza delivery boy and Jonathan's new best friend" Argyle (Booksmart) is played by Eduardo Franco.
Lieutenant Colonel Sullivan Sherman Augustus is "a no-nonsense man who believes he knows how to stop the evil in Hawkins" according to the film's description.
An unstable Russian smuggler who loves stupid jokes, cold hard cash, and crunchy peanut butter will be played by Nikola Djuricko.
Eddie Munson, "the head of the Hawkins High official D&D Club, The Hellfire Club" is played by British actor Joseph Quinn.
Star Joel Stoffer (Enoch) has also been cast in a part that is presently being kept under wraps.
Stoffer said, "I've got a role that we haven't shot yet on Stranger Things. I don't expect it to become anything like long-term… I was sent the pages of my scene and I didn't know any of the actors or I didn't recognize any names in my scene."
Dr. Sam Owens (Paul Reiser), who works for the US Department of Energy and was promoted to Director of Operations at Hawkins Lab after Dr. Martin Brenner's departure, returned for season three.
He was the one that helped Hopper adopt Eleven and was previously charged with exploring the Upside Down Gate in an effort to prevent it from unleashing catastrophic disaster.
In light of the recent Gate-related turmoil and the mounting Soviet threat, it's safe to assume he'll have some sort of part in the upcoming installment.
Even though Reiser had previously played the ultimate '80s nice-guy-turned-sleazebag in Aliens, we truly hope that he continues that way because it was such a relief to learn that he wasn't Brenner after all.
Steve Harrington, Maya Hawke, Sadie Sink, and Gaten Matarazzo will star in season 4 of stranger things as Steve, Robin, Max, and Dustin.
The Plot of Stranger Things Season 4
"It's been six months since the Battle of Starcourt, which brought terror and destruction to Hawkins. Struggling with the aftermath, our group of friends is separated for the first time — and navigating the complexities of high school hasn't made things any easier.
"In this most vulnerable time, new and horrifying supernatural threat surfaces, presenting a gruesome mystery that, if solved, might finally put an end to the horrors of the Upside Down," the official summary says so.
Natalia Dyer said, "Honestly, the scripts are great,"
"Every time we end a season, we all think, 'Where is this going to go? Where can this possibly go?' Then we get the scripts for the next season and we're like, 'Oh my god, wow, like, wow!'"
She further said, "It's going to be really big. It's going to be big!"
Season three ended on a tumultuous high. They packed up their house in Hawkins and drove out with Eleven in tow after Hopper's untimely death (which wasn't really an untimely death at all).
"It's not all good news for our 'American'; he is imprisoned far from home in the snowy wasteland of Kamchatka, where he will face dangers both human… and other," states Netflix's official synopsis.
"Meanwhile, back in the States, a new horror is beginning to surface, something long-buried, something that connects everything."
After a devastating defeat, the Soviets are not yet out of the game. Could this be a sign that the Gate has not been properly shut, but has simply slowed down? Demogorgons, on the other hand, may have the ability to open their own little Gates/tears in the fabric of reality.
For the Soviets, we don't know if they're going to build an army of Demogorgons.
We can only assume that Hopper is leading a team out of his Russian prison.
Season 4's nine-episode titles have already been released, and they are as follows:-
• 'The Hellfire Club'
• 'Vecna's Curse'
• 'The Monster and the Superhero'
• 'Dear Billy'
• 'The Tina Project'
• 'The Dive'
• 'The Massacre at Hawkins Lab'
• 'Papa'
• 'The Piggyback'
A group of villains in the X-Men comic book series, led by Emma Frost, as well as a club of rogue real-life nobles in the 18th century known as the Hellfire Club.
A connection to Max's now-dead brother Billy (Dacre Montgomery), who went evil in season three only to sacrifice himself at the last minute to protect Eleven and the gang, is also possible in the phrase "Dear Billy."
Dr. Martin Bremer (Matthew Modine) is the name Eleven used to refer to her father, Dr. Martin Bremer (Matthew Modine), who was assumed to have been murdered by the Demogorgon at the end of season one.
As a result, the episode's title suggests that either the villain will make a reappearance or Eleven will be reunited with her actual 'Papa,' Hopper.
How Many More Stranger Things Spin-offs Can We Expect?
The fifth season of Stranger Things may be coming to a close, but there are already plans in place for the show to continue for many more seasons.
It was mentioned in the season four announcement letter by the Duffer Brothers that "this story" had come to an end, but "the overall world" might not have.
They wrote, "There are still many exciting stories to tell within the world of Stranger Things; new mysteries, new adventures, new unexpected heroes.
"But first we hope that you stay with us as we finish this tale of a powerful girl named Eleven and her brave friends, of a broken police chief and a ferocious mom, of a small town named Hawkins, and an alternate dimension known only as of the Upside Down."
In a recent Vox media conference, Netflix co-CEO Ted Sarandos called Stranger Things a "franchise being born."
As a result of how successful the series has been for the streaming service, the show's writers have undoubtedly built a big, deep universe with plenty of stories and scope.
Eleven may be the center of a future Netflix spin-off, but that has yet to be confirmed by the streaming service. So, we'll take yours as good as anyone else's.
However, Maya Hawke's Robin has been given her own podcast series, as well as a novel, Rebel Robin, which tells her own tale.
Trailer for Stranger Things Season 4
The official trailer for stranger things season 4 has yet to be released, however, we'll let you know as soon as it is available.
Must check-
Final Lines
If you have any queries you can ask them in the space provided below.