SurrealEstate Season 2: Will It Return For Season 2 On SYFY?
SYFY has no plans to leave the horror genre anytime soon. It was officially announced on Tuesday that SurrealEstate will return for a second season in 2023, according to the network.
The supernatural drama is the brainchild of creator and showrunner George R. Olson and centers on real estate agent Luke Roman (Tim Rozon), who specializes in exterminating haunted houses.
He and his group exorcise any evil spirits or ghouls that might deter potential buyers. Besides, what about the ghosts and demons that can't be wiped out so quickly?
Of course, we're talking about psychological demons. In this way, the "unfinished business" of the living and the dead are nicely contrasted.
Must check-
Last summer, the show's creator told SYFY WIRE, "Luke has found that most of these hauntings really do come down to one thing: unfinished business."
"But when I was taking the pilot out [to sell] originally, a lot of people were like, "Well, wait a minute, this has some really funny parts in it. But then there are some scary parts. And there are some parts that are poignant, too. Is this a drama, or a comedy, or is this horror?" And I was like, 'The answer to that is yes. It's a floor wax and a dessert topping!'" But Luke's backstory is also going to be a driving force, definitely in the first season."
SurrealEstate Has Been Renewed For a Season 2
Fans of SurrealEstate can rejoice because the show will be returning for season 2 on Syfy's 30th anniversary.
Wynonna Earp's Tim Rozon will return in 2023 for the second season of the series, which also stars Sarah Levy, Tennille Read, Adam Korson, and Savannah Basley. After the news broke, George Olsen, the show's creator, tweeted the message "Believe".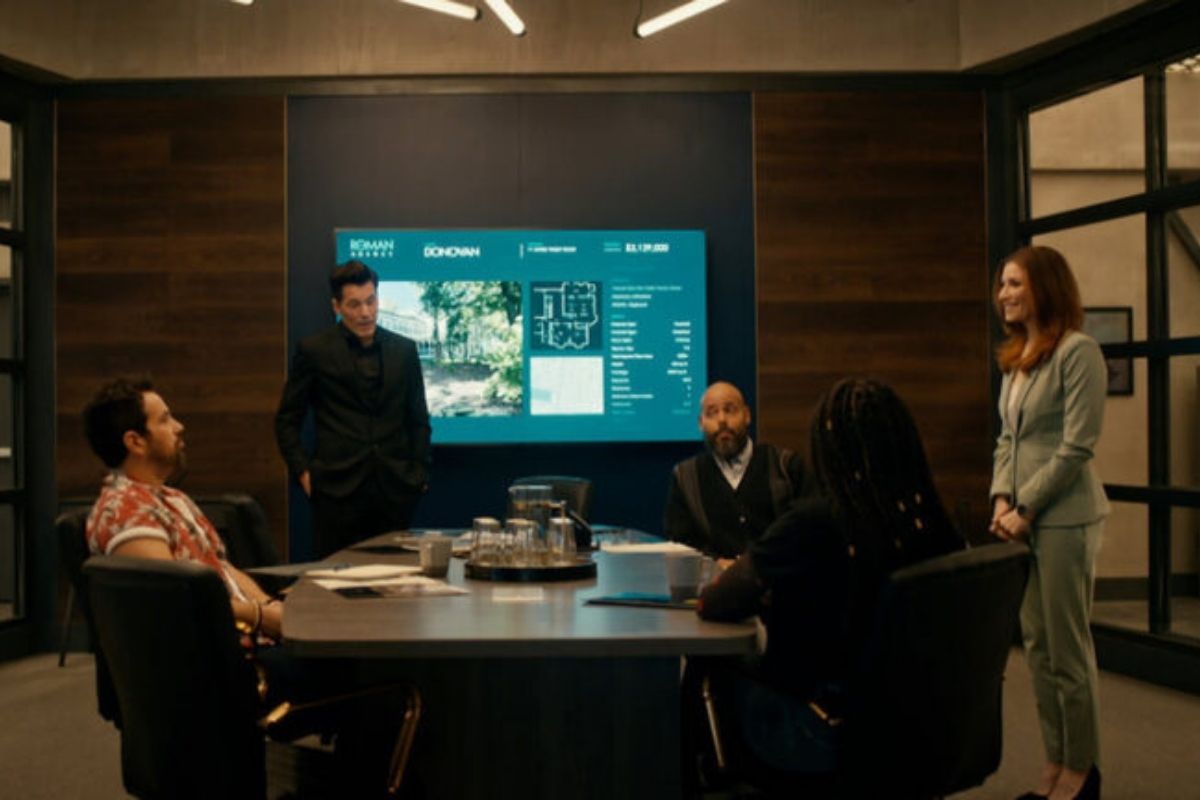 In addition to Lance Samuels (The Indian Detective), Daniel Iron (Ginny & Georgia), Armand Leo (The Detail), and Danishka Esterhazy (The Banana Splits Movie), Olson serves as an executive producer of the show.
It was directed by Paul Fox (Schitt's Creek) as well as Paolo Barzman (Wynonna Earp).
Olsen revealed the show's cancellation on Twitter in October 2021, months after it premiered in July 2021.
"Sorry to tell you that we will not be moving forward with Syfy on Season Two of #SurrealEstate. But we have no intention of leaving Luke alone in a bowling alley when his mom is out there somewhere and mortgage rates are so reasonable," he wrote at the time in a series of tweets.
He further wrote, "We're committed to finding a new home for #SurrealEstate, and if there's one thing The Roman Agency knows about, it's finding new homes. Well, they didn't have to find a new home."
SYFY's #SurrealEstate Brought Back From the Dead; Resurrected From Cancellation For Season 2 | @SYFY https://t.co/v32MLMZkX4

— PopWire (@PopWirenet) May 10, 2022
A real estate agent, Luke Roman, and an elite team of specialists handle the cases no one else can: haunted and possessed houses that literally scare potential buyers. Even as they battle their own demons, the team works tirelessly to find answers and closure for the things that go bump in the night.
Resident Alien and Chucky, two of the top two new scripted cable series of 2021, will return to Syfy later this year as well. Season 2 of Chucky will be aired in the USA, just like Season 1 was.
SurrealEstate has been renewed for Season 2! https://t.co/pNQPYSe2DZ

— SYFY WIRE (@SYFYWIRE) May 10, 2022
Reginald the Vampire, based on Johnny B. Truant's Fat Vampire book series and starring Jacob Batalon, and The Ark, a space survival drama, set 100 years in the future and created by Dean Devlin and Jonathan Glassner, will also debut on the network. Both shows will take place in the future.
Bring It On: Cheer or Die, a new Syfy original film, will debut this fall. An abandoned school serves as the setting for this chilling story of a cheerleading squad whose Halloween practice goes horribly wrong when members start disappearing left and right. She stars alongside Kerri Medders and Tiera Skovbye in the movie.
Rebekah McKendry and Dana Schwartz penned the script, which was directed by Karen Lam and was adapted from a story by Alyson Fouse. Armyan Bernstein, Charlie Lyons, and Griff Furst are the executive producers; Tony Gonzalez and C. Eve Stewart are the co-producers. In addition to returning as a stunt coordinator, Gonzalez also serves as a choreographer for the film.
SurrealEstate's first season (10 episodes) can currently be viewed on SYFY's website through a cable provider login.
I hope you found the information presented above to be of use. You can also look through our entertainment section, where we normally cover all of the most recent TV episodes, web series, anime, and other media. Visit our website if you'd like to learn more about this topic.