The Boys Takes Aim at HBO Max and Discovery+ With Hysterical Vought++ Announcement
Surely, someone had to do it. Since Warner Bros., HBO Max, and Discovery+ have all announced or leaked decisions regarding their platforms' content and future plans in recent days, it's hard not to react to "WTF is going on?". Prime Video's The Boys took to Twitter to poke fun at the HBO Discovery blunder with a clever Vought announcement in between titles mysteriously disappearing from the catalog, anticipated films being shelved, and filmmakers being blindsided.
Must read-
The Boys Takes Aim at HBO Max and Discovery+
The fake announcement makes fun of the rebranding of HBO Max, which will include Discovery+ and cut back on making original content so that it can focus on making movies for theatres. But what will it be called? HBO Go, and HBO Now was the previous names for this service before it was renamed Max as a global brand. The Boys is making fun of HBO by launching Vought++, a streaming platform that incorporates several other streaming services for additional (albeit more expensive) entertainment at home.
Additionally, the post contains a slew of Easter egg-like jokes that get funnier as you read along, including a cheap dig at the defunct streaming platform CNN+ (which was shut down by HBO Discovery weeks after it launched), a construction reality show that is clearly a spoof of The Property Brothers, and of course, numerous references to the flagship superhero content that is frequently used to attract new subscribers.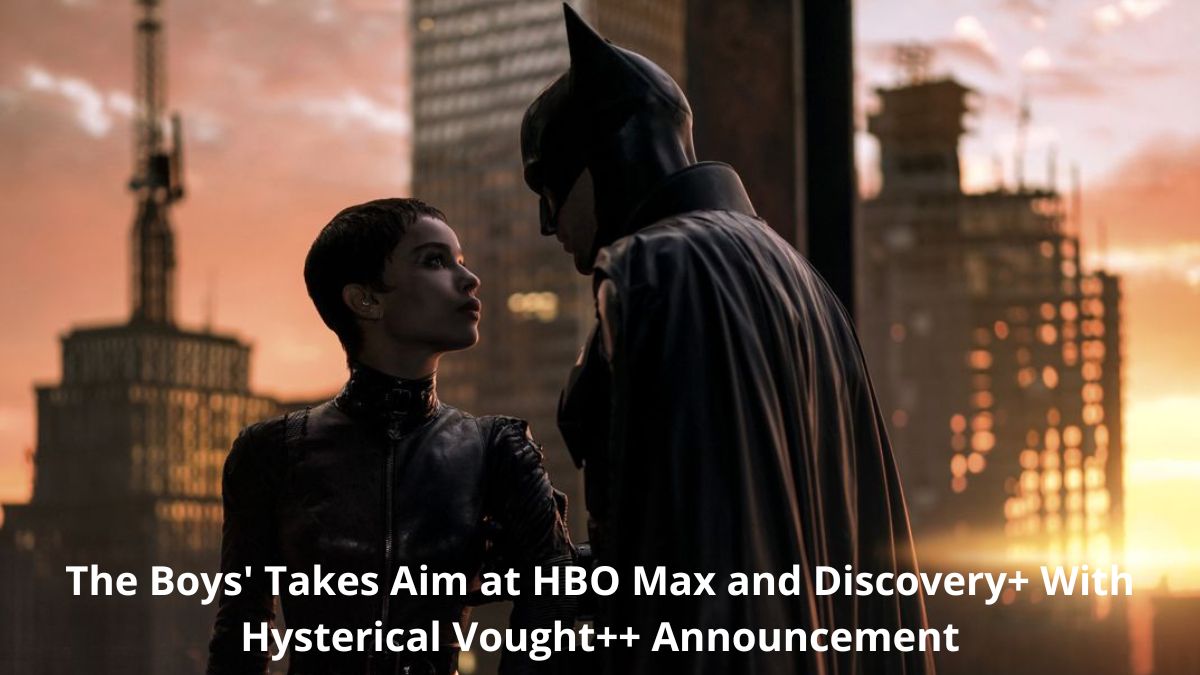 The joke works perfectly because DC's most iconic superheroes are clearly satirized in The Boys' most prominent characters. On their own, Homelander (Anthony Starr), A-Train (Jessie T. Usher), Queen Maeve (Dominique McElligott), and The Deep (Chace Crawford) are easy to associate with Superman, Wonder Woman (Jessie T. Usher), and Aquaman.
The Snyderverse, which includes Batman vs. Superman: The Dawn of Justice and Man of Steel, is being wiped out by new CEO David Zaslav, who has vowed to start over with a Marvel Cinematic Universe-like 10-year plan that he claims will bring in the money at the box office. Consequently, these heroes (and huge money-makers) are caught in the crossfire of whatever is going on with HBO Discovery and Warner Bros.
Vought is bringing your streaming together in one, fairly easy-to-use app. VTV+, VNN+ and VSN+ are now part of Vought++! It's plus-plus, for only an additional $29.99 per month. Rewatch Dawn of the Seven with the guys, dive in to Property Flippers with the gals, plus more! pic.twitter.com/C4PRORD7m4

— Vought International (@VoughtIntl) August 5, 2022
Additionally, the Boys' universe has a mega-corporation, Vought, that does whatever is necessary to keep profits flowing, and this includes making unpopular decisions, shunning important players for ridiculous reasons, and just making changes on the whim without really caring about what the public's opinion is. That's not HBO Max Discovery++ Now… That's all Vought has to offer.
On Prime Video, you can watch all three seasons of The Boys.
I hope you found the information presented above to be of use. You can also look through our news section, where we normally cover all of the most recent news and happenings around the world. Visit our website if you'd like to learn more about this topic.