Twitter Tells Musk His Attempt to Bail on $44 Billion Acquisition Is 'Invalid and Wrongful'
In response to Elon Musk's attempt to back out of his $44 billion takeover of Twitter, the company's attorneys have fired back.
Following Musk's official notice of his intent to terminate the agreement on Friday, the company announced that it was prepared to pursue legal action against Musk.
Have a peek at-
Twitter Labeled Musk's Actions as Invalid and Wrongful
Now, in a new SEC filing, Twitter goes even further, labeling Musk's actions as "invalid and wrongful." Prior to this, Musk and his attorneys claimed that the company had made "false and misleading" claims about the prevalence of bots and fake accounts on the service.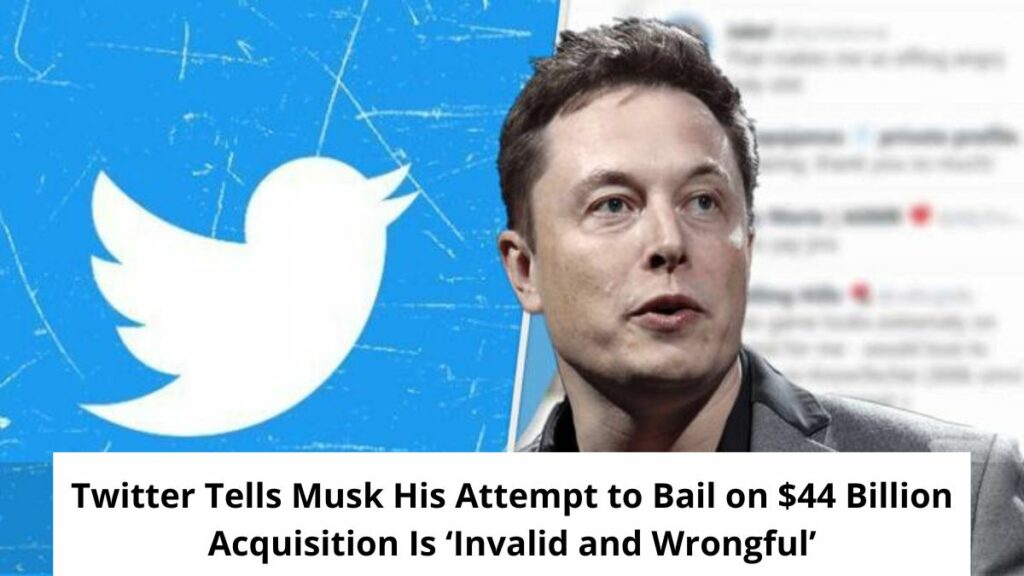 They asserted, without providing evidence, that the actual number of bots on Twitter may be "wildly higher."
Twitter's legal team has now responded. Twitter denies in a letter to Musk's lawyers that it has breached the terms of the agreement. Moreover, it states that Musk has "knowingly, intentionally, willfully, and materially breached the Agreement."
The clause that states Musk cannot make derogatory comments about Twitter or its employees is specifically mentioned.
With this filing, Twitter has taken another step toward what could be a protracted legal battle with Musk. Twitter's share price has dropped by several billion dollars since the saga with Musk began, so the company's board has announced that it will sue Musk to compel him to fulfill the terms of the agreement.
A new law firm with experience in corporate mergers has been retained by the company. However, it is still highly uncertain whether or not Musk will ultimately win the legal battle and become the sole owner of Twitter.
I hope you found the information presented above to be of use. You can also look through our news section, where we normally cover all of the most recent news and happenings around the world. Visit our website if you'd like to learn more about this topic.