Ketanji Brown Jackson Sworn in as First Black Woman on U.S. Supreme Court
The First African-American woman to serve on the Supreme Court, Ketanji Brown Jackson, was recently sworn in as an associate justice.
The appointment comes after one of the most momentous terms in modern Supreme Court history, which included landmark decisions on abortion and gun rights.
Must check-
Ketanji Brown Jackson Sworn in as First Black Woman on U.S. Supreme Court
The 51-year-old Jackson will take the position of retiring Justice Stephen Breyer and become one of the court's three liberals.
She has made it clear that she is willing to take on "the grave responsibilities" of the position.
The new public defender arrives on the court at a time of great change. There are presently nine justices on the Supreme Court, with six nominated by Republicans and three chosen by Democrats.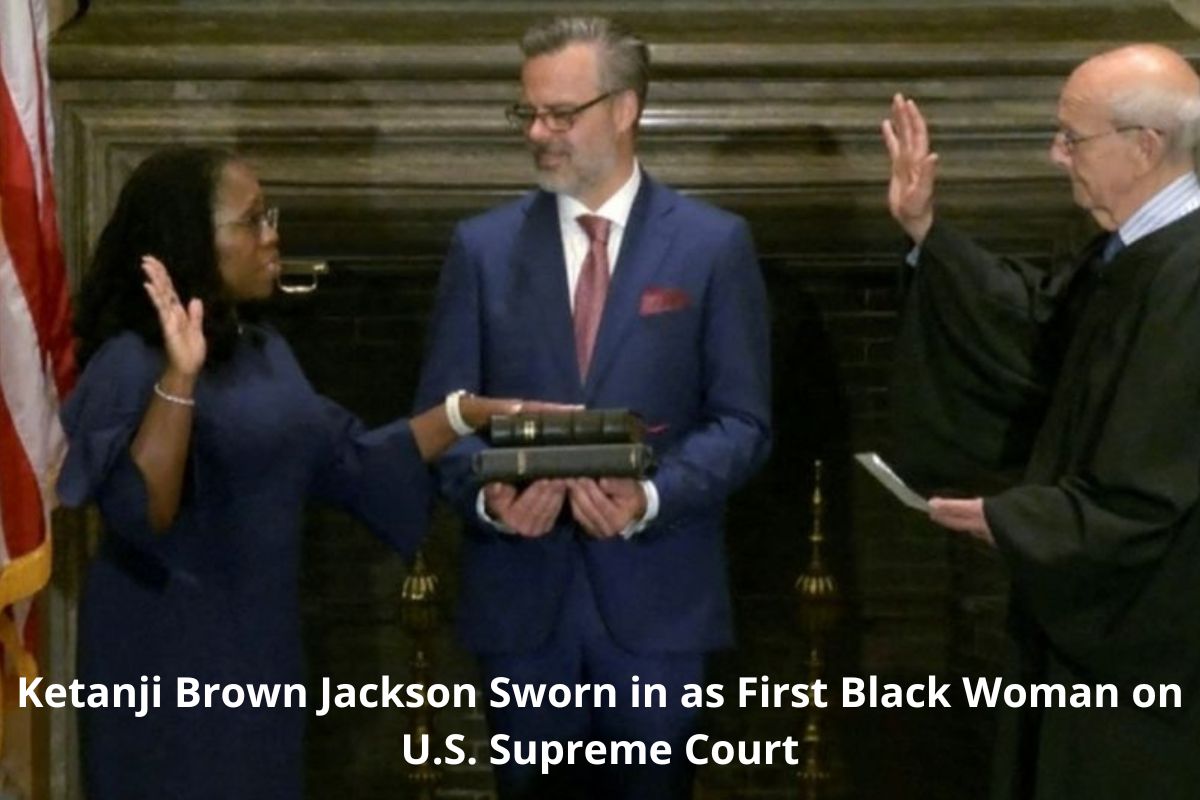 Reversing Roe v. Wade, a landmark abortion decision that had stood for half a century, striking down a New York law that restricted gun-carrying rights, and limiting the US Environmental Protection Agency's ability to reduce greenhouse gas emissions are just some of the landmark decisions that the court has issued in recent weeks.
Due to her lifetime appointment, Ms. Jackson will be sitting on the bench for decades, but she will not affect the court's present ideological balance.
With the appointment of Ms. Jackson, the Court's liberal minority will consist completely of women, joining Justices Elena Kagan and Sonia Sotomayor.
Justice Ketanji Brown Jackson.

As I said the day she was confirmed: You'd be hard-pressed to find someone better qualified for the job. Congratulations, Justice Jackson. pic.twitter.com/HVDVPB74ZZ

— President Biden (@POTUS) June 30, 2022
Mr. Breyer congratulated his successor on Thursday, saying "her hard work, integrity, and intelligence have earned her a place on this court."
"I am glad for my fellow justices. They gain a colleague who is empathetic, thoughtful, and collegial," he said.
Democrats in the US government, led by President Joe Biden, officially nominated her in February. Three Republicans voted with Democrats in April to confirm her seat in the United States Senate.
Democrats praised Ms. Jackson's background as a public defender during her confirmation hearing. In the history of the Supreme Court, she will be the first justice to have worked as a criminal defense attorney since Thurgood Marshall.
Ms. Jackson is a native Washingtonian and has served on the powerful DC circuit of the US Court of Appeals.
I hope you found the information presented above to be of use. You can also look through our news section, where we normally cover all of the most recent news and happenings around the world. Visit our website if you'd like to learn more about this topic.